11/30/17: A few years ago, I wrote a two-part blog post for Psychology Today titled "Declare Your Love: Overcoming The Fear of "I Love You."" A few weeks ago I was contacted by Medina Khatib, a Junior and psychology major at James Madison University. She discovered my article online and asked to interview me for a presentation she was preparing on that very topic. Yesterday, she sent me a link to her multimedia presentation on Youtube. I think she did an excellent job! And while she cited a number of sources, I'm flattered that she used so much of our interview. Here is the link to it below:
---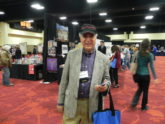 4/22/17: I attended the Psychedelics Science 2017 conference in Oakland, California. This photo was taken by my friend and former M.A. student, Bob Swanson. Our lunch together turned out to be the highlight of my one day visit to the conference. There were so many excellent speakers and such a large crowd that I went into overwhelm and returned home early, knowing that I'd be able to watch the presentations later on Youtube in the comfort of my own home. I found myself particularly interested in microdosing. Here is a link to the excellent and intriguing presentation on microdosing by my former guest, Dr. James Fadiman.
---
2/26/17: My recent guest, life coach Mark Susnow interviewed me on his podcast, The Inspire Possibility Show. The focus of our discussion was my ideas and experiences in relation to Synchronicity. I said some things I haven't said elsewhere. You might find it interesting. It's a half-hour show. Click here to listen.
---
My Digital Legacy
3/2/17: I have made sure that the entire collection of Shrink Rap Radio interviews will be available well into the future by placing the whole collection in The Internet Archive. You can find it by clicking here.
---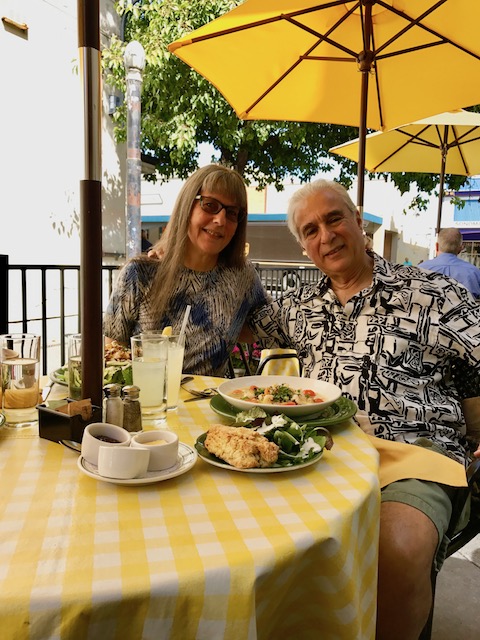 10/7/16: Another longtime listener and supporter from Oz. We had a lovely lunch at Topsy's in Petaluma.
---
9/30/16: I was interviewed this morning by Dusty Porter of Podcasters Unplugged, a podcast for those interested in getting into podcasting themselves. He does a good job!
---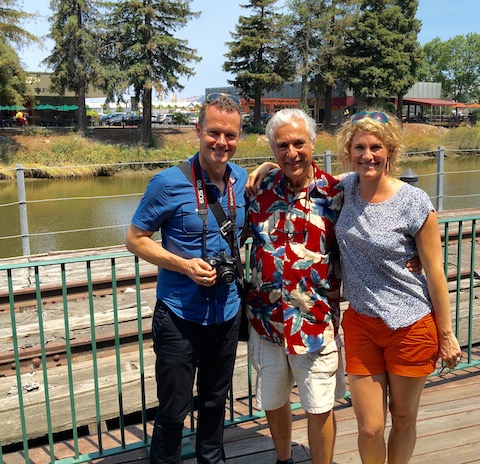 It's summer and I've had the privilege of meeting some of my Shrink Rap Radio listeners as they are passing through town. Most recently I met with Australian psychology podcaster Amy Felman and her podcaster husband Troy. Amy did such a beautiful interview with me some months back. I thought it only fair I interview her on our next podcast episode. We had a nice lunch and then visited the Petaluma studio of mega podcaster, Leo LaPorte of the TWiT network.
---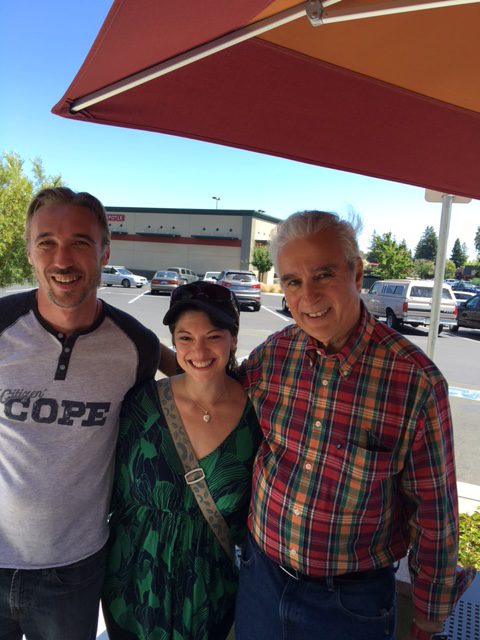 7/16/6: Two of my treasured listeners stopped by for lunch on their way North from Santa Cruz. Sean Arlt was on of my undergraduate students and Teaching Assistants with whom I strongly bonded and his friend Jordana reports she's been a big fan of Shrink Rap Radio for about 7 years and that it was instrumental in her going to Pacifica to study Jungian psychology and earning a Masters degree there.
---
6/7/16: The sound track of the video above is taken from my interview with noted Israeli Jungian Analyst, Erel Shalit on Shrink Rap Radio episode #470 on his book, The Cycle of Life. Polish listener Karol Nieweglowski is using crowd-funding to raise money for a Polish translation of Shalit's book. You can go to this site for more information and to view Part 2 of their beautiful video: https://zrzutka.pl/en/hpf986
---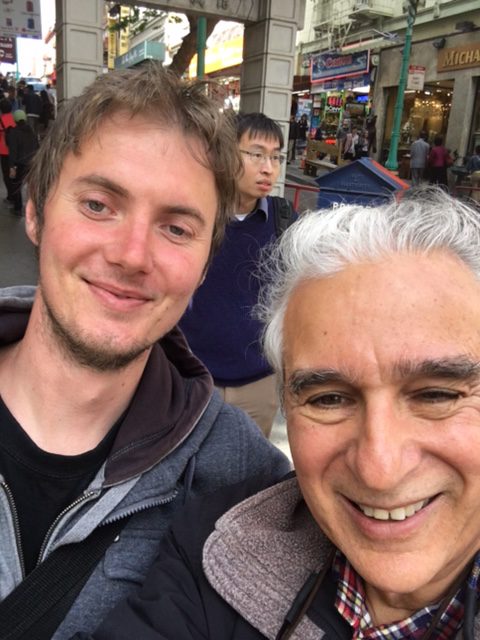 5/21/16: Today, I met up with long time listener, Jan Duris, who was visiting San Francisco from Slovakia. I took this selfie of us just outside the gate to Chinatown. We enjoyed a great Chinese dinner and good conversation. He described himself to me in an email in the following terms: "a personal and organizational development teacher, psychotherapist (mostly process worker, student of Arnold Mindell and others), meditation, self-therapy, self-defense, guitar play teacher, mystic, life coach etc etc. and low cost traveling expert from Slovakia, but Im living mostly all over the Europe. For more info look in my profile and on my Facebook or ask me. I love discovering the world and also searching for places where i would like to build something and live. This time Im on a trip through Budapest – Milan – Istanbul – Greenland – California – Nevada – Arizona – Utah :), looking forward to meeting new people, new beautiful places and enjoying taking photos, and feeling the spirit of this Earth's places and cultures."
No wonder I was eager to meet this adventurous young man!
---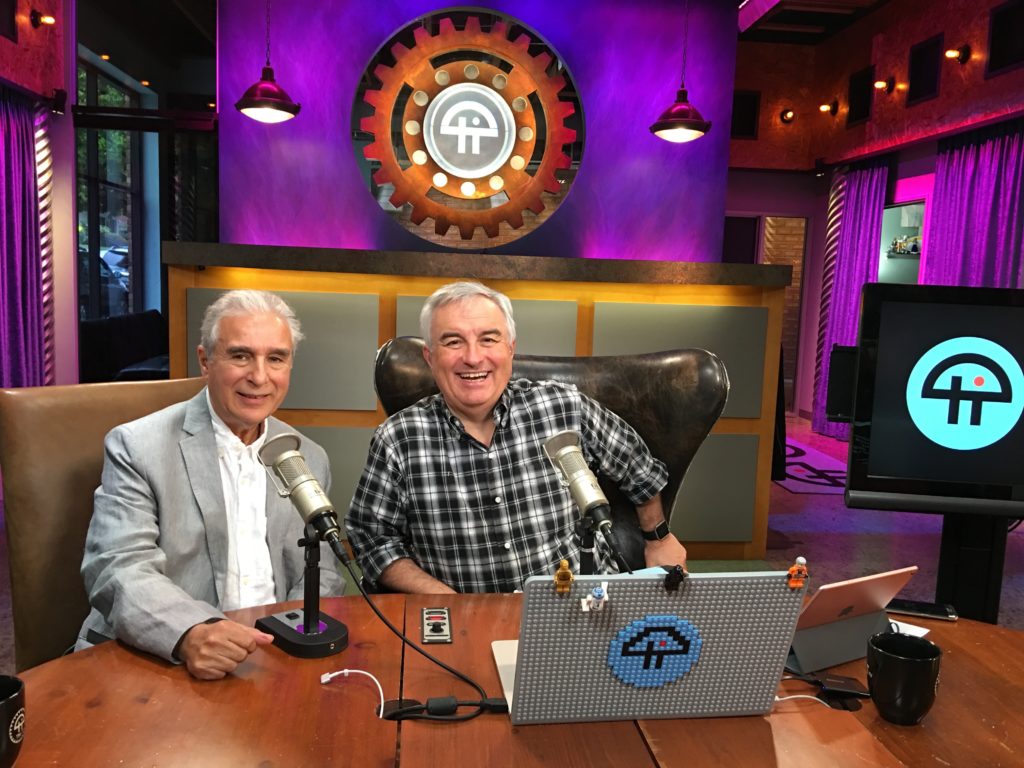 5/3/16: I celebrated my birthday with longtime Australian listener and transcriber, Jo Kelly, who just happened to be visiting California. One of the things on her site-seeing to-do list was to visit the recording studio of the TWiT (This Week in Technology) podcasting network, which is housed in nearby Petaluma. Unfortunately, I didn't get a picture of Jo (she's camera shy) but I did get one next to podcaster, TV and radio personality and creator of TWiT, Leo LaPorte. He's created a 24-hour/day podcast channel featuring a variety of shows, my favorite being MacBreak Weekly. With his amazing studio, large staff, and line line up of shows, he might rightly be considered "The King of Podcasters!"
---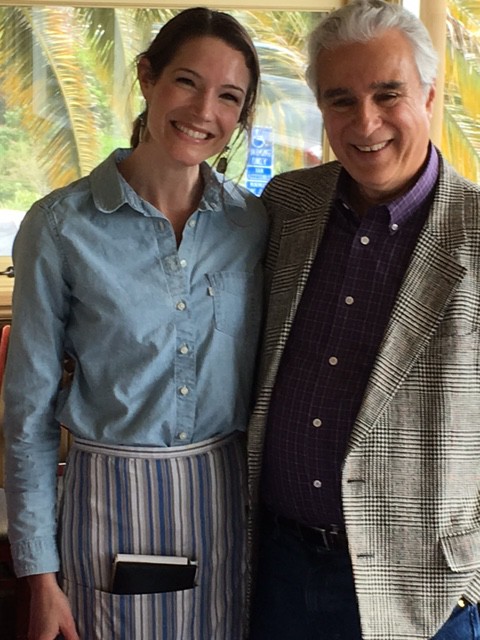 ---
4/13/16: I experienced a delightful synchronicity a couple of days ago. Some of my colleagues from my past at Sonoma State University were gathered in the banquet room at the Hilltop Restaurant in Novato, which is about 30 miles from where I live. My wife was with me and about 10 of my past colleagues. We had been going around the table bringing the group up to date on our lives and recent activities. I spent a fair amount of time speaking about reaching the Shrink Rap Radio 500th episode milestone. A half hour or so later, the young woman who was serving as our waitress came back into the room to refill water glasses and she happened to notice a flyer that one of my colleagues had passed out about the Gestalt Therapist, Fritz Perls. She said, "Oh, are you guys therapists?" Then she looked at me with a strange expression of recognition and she said I think I know you… I recognized your voice earlier." "Are you Dr. Dave?" And then she went on to rave about Shrink Rap Radio and how she has been listening to it for years and how wonderful it is and how she is in training to be a therapist, herself. She went on and on about how wonderful the show is and how excited she was to meet me. Well, I was equally excited because I almost never have run in to a listener anywhere near my own environs. And, her enthusiastic endorsement of the show and how much it meant to her almost made it look like she was my plant, given that only minutes before I had been talking about Shrink Rap Radio and the reach of it around the world and the gratitude of my listeners. The young lady's name is Alexis. I asked her for a hug and one of my colleagues took our photo which you see here. I love synchronicity!
---
February 29, 2016. Cesar Torres, author and podcaster, recently interviewed me for 16-minutes about Creativity for his newsletter Pen & Pixel. We had a great dialog! Click here for our interview!
It's fun being on the other side of the mic!
---
January 21, 2016: I was interviewed delightfully by Australian podcaster, Amy Felman, who describes me as "psychology's most influential podcaster!" I like that! The name of Amy's show is We All Wear It Differently. Here's a link to the audio of her interview with me. And, here is a link to video if you'd like to see us both on camera! I highly recommend this podcast for anyone interested in finding out more about me.
---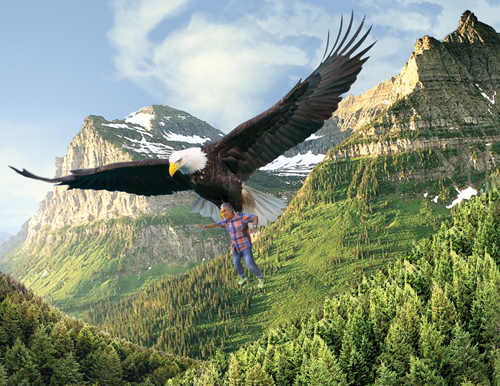 April 18, 2015: Thanks to artist and SRR listener, Anne Maxwell at Dream Well Art who did this digital rendering of a "vision" I had several years ago in a shamanic training workshop. In my vision, I was being carried aloft by an Eagle over a large forested area. Even though it's been years, this fleeting vision was burned into my memory and I was glad for Anne's skillful recreation. If you'd like one of your dream's rendered in this fashion, check out her website.
---
January, 2013: Listener and Naturopathic physician, Dr. Ralph Wood Wilson put a very nice video tribute to my work on his blog. You can check it out by clicking here. Thanks, Dr. Ralph!
November, 2012: Japan-based listener Kyle Duske does a very fine blog on the martial arts. You can see his print interview with me on my Judo experience by clicking here.
---
August 3, 2012: Cesar Torres is a Chicago-based podcaster who interviewed me on his show The Labyrinth.  His show is oriented around the question that he eventually puts to each guest, "What is the strangest thing that has ever happened to you?"  We had a wide-ranging conversation and, if you are interested, you'll learn more about me and my background, as a result of his excellent questioning.  Click here to go to the interview.
---
January 18, 2012: Irina Almgren, Swedish listener and host of the Open Questions podcast, interviewed me for more than two hours on the topic of dream work. She has broken this long interview into three podcasts. You can these episodes of her Open Questions podcast on iTunes or by clicking here to go to her website.
---
January 1, 2012: Wise Counsel Podcast was one of ten podcasts listed in the January 2012 issue of the American Psychological Association's publication, Monitor on Psychology. The article (p. 22 & 23), titled, "Psychology's Growing Library of Podcasts" says, among other things, "Psychology continues to expand its reach with podcasts that showcase the academic, the scientific, and the clinical sides of the field." Needless to say, I really appreciate the recognition from our leading professional organization.
---
November 17, 2011: Click here to hear me interviewed by Jose Drost-Lopez on his PsychTalk podcast about "Focus Groups, The Unconscious, and The Future of Communication."
---
February 1, 2010: Story in the American Psychological Association publication (The APA Monitor) titled, Giving Psychology Away, One Podcast At A Time includes Shrink Rap Radio and several quotes from Dr. Dave.
---
On July 13, 2009 I was interviewed by Kirk Honda on his Psychology in Seattle podcast. You can get it in either video or audio on iTunes or you can go to http://psychologyinseattle.com/ and click on Dr. Dave.
---
On July 30, 2009, I was interviewed by Dr. Anne Hill, host of Dream Talk Radio on KOWS 107.3 in Occidental, CA. The focus of the interview was the class I teach on Myth, Dream, and Symbol. Click here to listen or download the interview.
---
On June 9, 2008, I was interviewed by Yulonda Brown, whom I interviewed on my Wise Counsel Podcast. She is an African-American woman who has successfully struggled with child abuse, depression, Bipolar Disorder, and ADD. She is an author, publisher, mentor to young women of color, and mental health activist. We discuss the challenges of mental health needs, awareness, and resistance in the African-American community. Click here to go to her podcast interview with me. (Starts off with a long musical selection)
---
Shrink Rap Radio is being featured on the main podcast page in iTunes during the week of Feb. 10, 2008. Not sure how long it will be up but it is thrilling when this happens. Take a look, by clicking here, and you will see that we are in the center of the page right beneath NPR and next to the BBC. Now, they each have budgets of millions of dollars and professional staffs. So, you can see why I'm so thrilled, working as a single individual from a home office, to get this level of attention. And, this is the second time our psychology podcast has been featured on iTunes page! Of course, it wouldn't happen without the support of loyal listeners who have gone to the trouble of posting such positive reviews on the iTunes site.
---
Scientific American Mind, which is published by Scientific American, recommended Shrink Rap Radio on page 20 of their August/September 2007 issue. It is very exciting to receive this recognition from such a prestigious and widely-circulated print publication. "Every week psychology professor David Van Nuys of Sonoma State University interviews a leading psychologist about his or her specialty, covering a broad range of topics from mental health to spirituality and even business leadership. The animated discussions often delve into the personal lives of the host and guests, offering listeners a rare glimpse of the people behind the science."
---
Podcast411 Interview with Dr. Dave: Rob Walch interviews me on his popular Podcast411 show, which is devoted to interviews of podcasters. We discuss how I got into podcasting and so on.
---
Here is an interview with me on "The RU Sirius Show" regarding the book I co-authored about the Zodiac serial killer.
---
Tom Barbalet's interview with me on his podcast devoted to Artificial Life.
---
Here is an article about my podcast that appeared in Insights, the Sonoma State University magazine that goes out to alumni.
---
Here is an article about podcasting that I wrote for QRCA VIEWS, the quarterly magazine of the Qualitative Research Consultants Association.
---
I was interviewed by the BBC about my contact with a Shrink Rap Radio listener in Baghdad.
---
Rogin and Simers Squared, a morning talk show on KLAC radio, an AM radio station in Los Angeles, has been using me as their regular call-in psychologist. It's a lot of humorous banter and, at least, Shrink Rap Radio gets a plug on the air and on their website.
---
If you are at all interested in the psychology of serial killers or the infamous Zodiac case, you might be interested in checking out the series of commentaries I've posted on Youtube.
---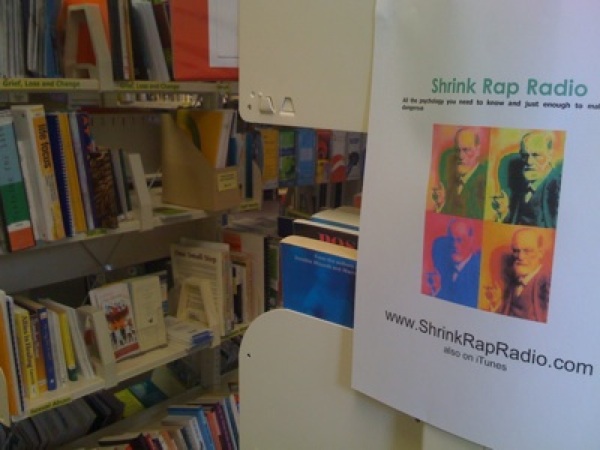 Listener Brandon Dennis who is a librarian at the Mental Health Education and Resource Centre in Chistchurch New Zealand sent me this photo of a terrific poster promoting Shrink Rap Radio that he's put up there in the library. Thank you, Brandon, who also wrote: "Your show has really changed my life… Thank you so much. I reccomend your show to many of our visitors and borrowers at our mental health library."
Thank you, Brandon!
---
Here is a link to the ten minute audio of my May 4, 2009 interview on the Bill Handel Show on Los Angeles radio station KFI about a recent development in the Zodiac case.