January, 2013: Listener and Naturopathic physician, Dr. Ralph Wood Wilson but a very nice video tribute to my work on his blog. You can check it out by clicking here. Thanks, Dr. Ralph!
---
November, 2012: Japan-based listener Kyle Duske does a very fine blog on the martial arts. You can see his print interview with me on my Judo experience by clicking here.
---
August 3, 2012: Cesar Torres is a Chicago-based podcaster who interviewed me on his show The Labyrinth.  His show is oriented around the question that he eventually puts to each guest, "What is the strangest thing that has ever happened to you?"  We had a wide-ranging conversation and, if you are interested, you'll learn more about me and my background, as a result of his excellent questioning.  Click here to go to the interview.
---
January 18, 2012: Irina Almgren, Swedish listener and host of the Open Questions podcast, interviewed me for more than two hours on the topic of dream work. She has broken this long interview into three podcasts. You can these episodes of her Open Questions podcast on iTunes or by clicking here to go to her website.
---
January 1, 2012: Wise Counsel Podcast was one of ten podcasts listed in the January 2012 issue of the American Psychological Association's publication, Monitor on Psychology. The article (p. 22 & 23), titled, "Psychology's Growing Library of Podcasts" says, among other things, "Psychology continues to expand its reach with podcasts that showcase the academic, the scientific, and the clinical sides of the field." Needless to say, I really appreciate the recognition from our leading professional organization.
---
November 17, 2011: Click here to hear me interviewed by Jose Drost-Lopez on his PsychTalk podcast about "Focus Groups, The Unconscious, and The Future of Communication."
---
February 1, 2010: Story in the American Psychological Association publication (The APA Monitor) titled, Giving Psychology Away, One Podcast At A Time includes Shrink Rap Radio and several quotes from Dr. Dave.
---
On July 13, 2009 I was interviewed by Kirk Honda on his Psychology in Seattle podcast. You can get it in either video or audio on iTunes or you can go to http://psychologyinseattle.com/ and click on Dr. Dave.
---
On July 30, 2009, I was interviewed by Dr. Anne Hill, host of Dream Talk Radio on KOWS 107.3 in Occidental, CA. The focus of the interview was the class I teach on Myth, Dream, and Symbol. Click here to listen or download the interview.
---
On June 9, 2008, I was interviewed by Yulonda Brown, whom I interviewed on my Wise Counsel Podcast. She is an African-American woman who has successfully struggled with child abuse, depression, Bipolar Disorder, and ADD. She is an author, publisher, mentor to young women of color, and mental health activist. We discuss the challenges of mental health needs, awareness, and resistance in the African-American community. Click here to go to her podcast interview with me. (Starts off with a long musical selection)
---
Shrink Rap Radio is being featured on the main podcast page in iTunes during the week of Feb. 10, 2008. Not sure how long it will be up but it is thrilling when this happens. Take a look, by clicking here, and you will see that we are in the center of the page right beneath NPR and next to the BBC. Now, they each have budgets of millions of dollars and professional staffs. So, you can see why I'm so thrilled, working as a single individual from a home office, to get this level of attention. And, this is the second time our psychology podcast has been featured on iTunes page! Of course, it wouldn't happen without the support of loyal listeners who have gone to the trouble of posting such positive reviews on the iTunes site.
---
Scientific American Mind, which is published by Scientific American, recommended Shrink Rap Radio on page 20 of their August/September 2007 issue. It is very exciting to receive this recognition from such a prestigious and widely-circulated print publication. "Every week psychology professor David Van Nuys of Sonoma State University interviews a leading psychologist about his or her specialty, covering a broad range of topics from mental health to spirituality and even business leadership. The animated discussions often delve into the personal lives of the host and guests, offering listeners a rare glimpse of the people behind the science."
---
Podcast411 Interview with Dr. Dave: Rob Walch interviews me on his popular Podcast411 show, which is devoted to interviews of podcasters. We discuss how I got into podcasting and so on.
---
Here is an interview with me on "The RU Sirius Show" regarding the book I co-authored about the Zodiac serial killer.
---
Tom Barbalet's interview with me on his podcast devoted to Artificial Life.
---
Here is an article about my podcast that appeared in Insights, the Sonoma State University magazine that goes out to alumni.
---
Here is an article about podcasting that I wrote for QRCA VIEWS, the quarterly magazine of the Qualitative Research Consultants Association.
---
I was interviewed by the BBC about my contact with a Shrink Rap Radio listener in Baghdad.
---
Rogin and Simers Squared, a morning talk show on KLAC radio, an AM radio station in Los Angeles, has been using me as their regular call-in psychologist. It's a lot of humorous banter and, at least, Shrink Rap Radio gets a plug on the air and on their website.
---
If you are at all interested in the psychology of serial killers or the infamous Zodiac case, you might be interested in checking out the series of commentaries I've posted on Youtube.
---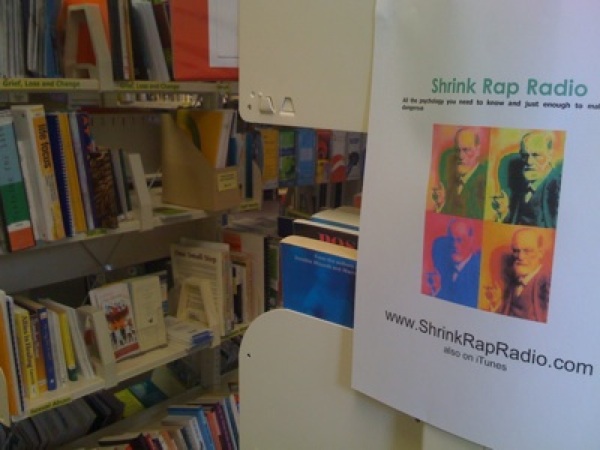 Listener Brandon Dennis who is a librarian at the Mental Health Education and Resource Centre in Chistchurch New Zealand sent me this photo of a terrific poster promoting Shrink Rap Radio that he's put up there in the library. Thank you, Brandon, who also wrote: "Your show has really changed my life… Thank you so much. I reccomend your show to many of our visitors and borrowers at our mental health library."
Thank you, Brandon!
---
Here is a link to the ten minute audio of my May 4, 2009 interview on the Bill Handel Show on Los Angeles radio station KFI about a recent development in the Zodiac case.