At last! The fully modern approach to Shrink Rap Radio!
For a one-time cost of $2.99, you can download the Shrink Rap Radio app for iPhone or Android.
Purchasing this app will not only make listening more convenient for you but will also help to support the show.
These apps give you access to the most recent 75 episodes plus the means to communicate directly with Dr. Dave via e-mail, phone message, Twitter, or Facebook. Rather than take up limited memory on your device, the app streams the content to you wirelessly. If you know you are going to be out of range for streaming, you also have the option of marking one or more episodes for storage on your device.
iPhone/iPad/iPod Touch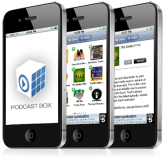 The iPhone app is embedded within another app called Podcast Box which you download for free from the iTunes store. Podcast Box is a sort of virtual container with links to a whole bunch of podcasts. Once you have successfully downloaded the latest version of Podcast Box, you should see an item at the bottom (before you try to search for SRR) that says "Categories." Click on Categories and then look for Shrink Rap Radio in the Education category. This will bring up the Shrink Rap Radio icon. Tap the icon and you'll be led through the process by which you can purchase the Shrink Rap Radio app for a one-time $2.99. Once you have downloaded and opened Podcast Box, the first item under the My Shows tab gives you an audio introduction on using the app. Click here to Podcast Box in the iTunes app store.
Android / Kindle Fire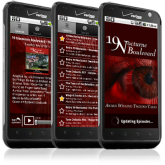 The Android app can be purchased and downloaded from the Amazon Android App Store for a one-time $2.99. Click here to go to the app on Amazon.
NOTE: Some Android phones come with a default set for the Google Android Store. You may need to go into your setting to make certain that the Amazon Android store is also enabled. Some Android phones come with a default set to only allow app purchases from the Andriod Market. You may need to go into your settings to allow the Amazon app store for Android to be downloaded and enabled. To do this, go into your "Application settings" and check the box that says: "Unknown Sources Allow installation of non-market applications."
Attn: International Listeners
Sadly, I've learned that listeners outside the U.S. evidently can't access the Amazon Android store, for now. Wizard Media tell me that they are working to get the app into the Google Android store but have not given me a date, as of yet.
Wizard Media
Both the Podcast Box app and the Shrink Rap Radio app are the creations of Wizard Media at libsyn.com. If you run into any trouble with these apps let me know which app you are using on which device and which operating system version and a clear description of the problem and I'll pass that along to them for a fix.