Dear Listener,
My original intent was to have Shrink Rap Radio be free and available to the whole world. I'm on a mission to inspire, to educate, and to provide insight. And, perhaps, to entertain along the way. Beyond the costs of equipment and hosting, each episode represents about ten hours or more of my time and energy. Your financial support will help to sustain my motivation to keep going.
By the way, some people are not comfortable using Paypal.  You can always send a check made out to my name (not Shrink Rap Radio).  You can send it to: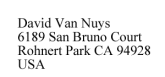 "Dr. Dave"
P.S. Clicking on one of the links below will take you to a secure Paypal page. If you don't have a Paypal account, you will also be able to make a donation using your credit card. It will say the payment is going to e-FocusGroups, which is my business name. Thanks!
NOTE: IF YOU CONTRIBUTE AT THE "ULTRA COLOSSAL" OR "SUPER COLOSSAL" LEVEL, PLEASE LET ME KNOW IF YOU'D LIKE ME TO MENTION YOUR BLOG, BUSINESS, OR WEBSITE PERIODICALLY!