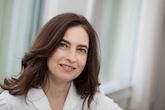 Hilary Jacobs, MSW is a certified psychoanalyst and AEDP (Accelerated Experiential Dynamic Psychotherapy) psychotherapist and supervisor, specializing in trauma and emotions. She has published articles in The New York Times and professional journals. Her blog posts have been shared worldwide. She runs a private practice in New York City and was the Mental Health Consultant for the Emmy and Golden Globe-winning show Mad Men.
HIlary's background is in the biological sciences. A native New Yorker, Hilary graduated from the Bronx High School of Science and went on to receive a BA in Biochemistry from Wesleyan University. Hilary graduated with a doctoral degree from Columbia University where she learned about neuroscience. Several years later, Hilary decided to become a psychotherapist. She received her MSW from Fordham University and competed a 4-year certification in psychoanalysis and psychoanalytic psychotherapy. Concurrent to her psychoanalytic training, HIlary began studying trauma and emotion centered psychotherapies including AEDP, EMDR, SE and read voraciously on the subject of shame. Hilary became certified in AEDP and is now a certified AEDP Supervisor. Hilary's current passion is writing for the general public on emotions and a mental health tool she calls The Change Triangle based on AEDP. Her book, "It's Not Always Depression: Working the Change Triangle to Listen to the Body, Discover Core Emotions and Connect to Your Authentic Self is being published by Random House USA/Canada and Penguin UK in February 2018.

Get A 10% discount on all my courses below through the Zur Institute using the discount code: DRDAVE88
Check out the following Psychology CE Courses based on listening to Shrink Rap Radio interviews, offered through Zur Institute:
Jungian Psychotherapy Part 1 (6 CEUs)
Jungian Psychotherapy Part 2 (7 CEUs)
Jungian Psychotherapy Part 3 (7 CEUs)
Jungian Psychotherapy Part 4 (6 CEUs)
Jungian Psychotherapy Part 5 (7 CEUs)
Jungian Psychotherapy Package of the Five Above (33 CEUs)
Wisdom of The Dream (4 CEUs)
Positive Psychology (6 CEUs)
Pros and Cons of Positive Psychology (5 CEUs)
The Fundamentals of Positive Psychology (7 CEUs)
CERTIFICATE PROGRAM IN POSITIVE PSYCHOLOGY (39 CEUs)
Body-Mind: Goodbye to Dualism (6 CEUs)
Brain: Insights from Neuroscience (8 CEUs)
Meditation & Psychotherapy (8 CEUs)
Crisis & Trauma: Identification, Assessment, & Treatment (15 CEUs)
Neuroscience and Healing (8 CEUs)
NEW! Holistic & Nutritional Approaches to Treating Psychological Disorders (5 CEUs)
NEW! Holistic Psychotherapy: Treating The Whole Person (6 CEUs)
or check out the
NEW! Complementary and Alternative Medicine Certificate Course (43 CEUs)
NEW! Ego States Psychotherapy: Engaging the Personality's Different Parts in Psychotherapy (5 CEUs)
Get 10% discount on all lectures at The JungPlatform using our discount code: DRDAVE
A psychology podcast by David Van Nuys, Ph.D.
Copyright 2018: David Van Nuys, Ph.D.
Podcast: Play in new window | Download