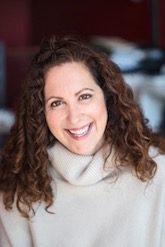 Judith Newman is the author of To Siri With Love:  A Mother, Her Autistic Son, and the Kindness of Machines.  She writes about entertainment, science, business, beauty, and popular culture for a wide variety of publications, including The New York Times, Vanity Fair, Prevention, AARP, and National Geographic. As a book reviewer, she writes the column "Help Desk" in   The New York Times Book  Review, and reviews regularly for People.  She is a contributing editor for Allure and Prevention, and has been widely anthologized and won numerous awards for her journalism.
To Siri With Love was inspired by a 2014 article in the New York Times inspired by her autistic son's relationship with Siri; it became  one of  the most emailed pieces in the newspaper  that year.  She has also co-authored several books, including The Girl:  A Life In The Shadow of Roman Polanski.  Earlier, Miramax published her memoir, You Make Me Feel Like An Unnatural Woman:  Diary of a New (Old) Mother, about becoming a mother late(ish) in life.    She graduated Wesleyan University and has an MA from Columbia's Literature Department.  She and her husband live in New York City with their twin sons and a lot of chaos.


Get A 10% discount on all my courses below through the Zur Institute using the discount code: DRDAVE88
Check out the following Psychology CE Courses based on listening to Shrink Rap Radio interviews, offered through Zur Institute:
Jungian Psychotherapy Part 1 (6 CEUs)
Jungian Psychotherapy Part 2 (7 CEUs)
Jungian Psychotherapy Part 3 (7 CEUs)
Jungian Psychotherapy Part 4 (6 CEUs)
Jungian Psychotherapy Part 5 (7 CEUs)
Jungian Psychotherapy Package of the Five Above (33 CEUs)
Wisdom of The Dream (4 CEUs)
Positive Psychology (6 CEUs)
Pros and Cons of Positive Psychology (5 CEUs)
The Fundamentals of Positive Psychology (7 CEUs)
CERTIFICATE PROGRAM IN POSITIVE PSYCHOLOGY (39 CEUs)
Body-Mind: Goodbye to Dualism (6 CEUs)
Brain: Insights from Neuroscience (8 CEUs)
Meditation & Psychotherapy (8 CEUs)
Crisis & Trauma: Identification, Assessment, & Treatment (15 CEUs)
Neuroscience and Healing (8 CEUs)
NEW! Holistic & Nutritional Approaches to Treating Psychological Disorders (5 CEUs)
NEW! Holistic Psychotherapy: Treating The Whole Person (6 CEUs)
or check out the
NEW! Complementary and Alternative Medicine Certificate Course (43 CEUs)
NEW! Ego States Psychotherapy: Engaging the Personality's Different Parts in Psychotherapy (5 CEUs)
Get 10% discount on all lectures at The JungPlatform using our discount code: DRDAVE
A psychology podcast by David Van Nuys, Ph.D.
copyright 2017: David Van Nuys, Ph.D.
Podcast: Play in new window | Download