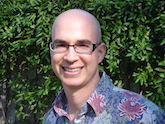 Andy Matzner, MA, LCSW is a psychotherapist, educator, workshop facilitator and public speaking coach. Since 2005, Andy has been serving the transgender community of Southwest Virginia and beyond as a gender therapist. He also teaches psychology, mental health skills and gender studies at Virginia Western Community College and Hollins University.
Prior to his career in mental health, Andy taught English as a second language in locales such as Japan, Thailand, Australia and Hawaii. He also trained as an anthropologist (Master's Degree, University of Hawaii), focusing on gender diversity in non-Western cultures.
Andy is the author of several books, including Recovery from Addictions and Compulsive Behavior: A Journaling-Based Guide to Becoming Your Best Self and Having a Life Worth Living (2017); Everyone Has a Story: Using the Hero's Journey and Narrative Therapy to Reframe the Struggle of Mental Illness (2015); The Tarot Activity Book: A Collection of Creative and Therapeutic Ideas for the Cards (2013); and Male Bodies, Women's Souls: Personal Narratives of Thailand's Transgendered Youth (2007, with LeeRay Costa).
Podcast: Play in new window | Download