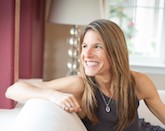 Sheryl O'Loughlin is a serial entrepreneur and author of Killing It! An Entrepreneur's Guide to Keeping Your Head Without Losing Your Heart. She has served as the CEO of Clif Bar and Company, where she led the concept development and introduction of Luna Bar. In Sheryl's three years as CEO, the company revenue doubled from $100M to $200M. She then went on to co-found and serve as CEO of Plum, Inc. Plum was sold in 2013 to the Campbells Soup Company. She was the Executive Director of the Center for Entrepreneurial Studies at the Graduate School of Business at Stanford University. Sheryl is currently CEO of REBBL, a fast-growing super herb beverage company. Sheryl earned her MBA from the Kellogg School of Management at Northwestern University. She lives in Santa Rosa with her husband, Patrick, and her two sons. You can learn more about Sheryl at www.sheryloloughlin.com.
Get A 10% discount on all my courses below through the Zur Institute using the discount code: DRDAVE88
Get 10% discount on all lectures at The JungPlatform using our discount code: DRDAVE
A psychology podcast by David Van Nuys, Ph.D.
Copyright 2018: David Van Nuys, Ph.D.
Podcast: Play in new window | Download