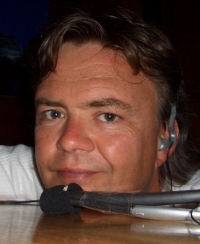 I recently attended my first San Francisco Podcasters MeetUp. It was an unexpectedly large event which made it hard to have conversations with individuals. Consequently, I was surprised to receive an e-mail a few days later from blogger and podcaster Chris Ritke, asking if he could interview me for his podcast. I was happy to do so and it turned out be fun to be on the other side of the microphone. Chris gave me permission to put the interview to double duty by posting it here.
Chris runs 49media.com, the first magazine for weblog media where you can browse and search for the newest images, podcasts and videos created by people from around the world. Chris is also the host of the 49Media Podcast, interviewing the people creating weblog media.
Chris received his masters degree in physics from the Technical University in Aachen, Germany. He has worked in consulting, localization, sales, software development and executive management at both American and European technology firms. He was co-founder of WebProject Incorporated. WebProject was the first Web-based and hosted project management solution. WebProject was acquired in 2000.
Podcast: Play in new window | Download