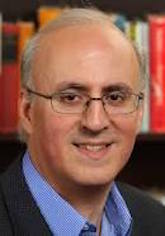 Allan Abbass M.D. is professor, psychiatrist, and founding Director of the Centre for Emotions and Health at Dalhousie University in Halifax, Canada. He published his first book, Reaching through Resistance: Advanced Psychotherapy Skills, in 2015.
His clinical specialty and research focus is the use of Intensive Short-Term Dynamic Psychotherapy (ISTDP). His work centers on the use of emotion-focused psychotherapy to heal medically unexplained physical symptoms. In addition, he has developed psychotherapy training programs in ISTDP. He has also published clinical trials on the effectiveness of ISTDP and meta-analyses on the effectiveness of ISTDP.
Dr. Abbass is an Elected Member of the Royal Society of Medicine. In 2001, he was awarded The Association of Chairs of Psychiatry of Canada Education Award for Excellence in Education. In 2013, he received the Douglas Utting Award in Montreal, Canada, in the "Canadian Providing Outstanding Contributions" category, for the recognition and treatment of depression.
Dr. Abbass has also published on the use of videotape and videoconference for training in short term psychotherapy and has facilitated the development of ISTDP training programs internationally.
He is an advisory board member on the American Psychological Association's Unified Psychotherapy project, and is on the scientific committee of the American Psychoanalytic Association.
Check out the following Psychology CE Courses based on listening to Shrink Rap Radio interviews:
Jungian Psychotherapy Part 1 (6 CEUs)
Jungian Psychotherapy Part 2 (7 CEUs)
Jungian Psychotherapy Part 3 (7 CEUs)
Jungian Psychotherapy Part 4 (6 CEUs)
Jungian Psychotherapy Part 5 (7 CEUs)
Jungian Psychotherapy Package of the Five Above (33 CEUs)
Wisdom of The Dream (4 CEUs)
Positive Psychology (6 CEUs)
Pros and Cons of Positive Psychology (5 CEUs)
The Fundamentals of Positive Psychology (7 CEUs)
CERTIFICATE PROGRAM IN POSITIVE PSYCHOLOGY (39 CEUs)
Body-Mind: Goodbye to Dualism (6 CEUs)
Brain: Insights from Neuroscience (8 CEUs)
Meditation & Psychotherapy (8 CEUs)
Crisis & Trauma: Identification, Assessment, & Treatment (15 CEUs)
Neuroscience and Healing (8 CEUs)
NEW! Holistic & Nutritional Approaches to Treating Psychological Disorders (5 CEUs)
NEW! Holistic Psychotherapy: Treating The Whole Person (6 CEUs)
or check out the
NEW! Complementary and Alternative Medicine Certificate Course (43 CEUs)
NEW! Ego States Psychotherapy: Engaging the Personality's Different Parts in Psychotherapy (5 CEUs)
NEW! Get 10% discount on all courses above offered through the Zur Institute using discount code: DRDAVE88
Get 10% discount on all lectures at The JungPlatform using our discount code: DRDAVE
You can also earn CEU's by going to another partner website at Ed4Online!
A psychology podcast by David Van Nuys, Ph.D.
copyright 2015: David Van Nuys, Ph.D.
Podcast: Play in new window | Download