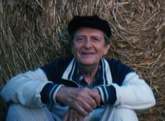 Long time listeners will recall that Stan Krippner PhD was my guest on Show #95 On Dreams and #30, speaking with us about Scientific Parapsychology. Dr. Krippner is also an expert on altered states of consciousness, which of course include dreaming. Currently a faculty member at the Saybrook University in San Francisco, he is a world-reknowned psychologist, who among other things is recognized for his ground-breaking work in dream telepathy and other psychic phenomena. Dr. Krippner has authored or co-authored more than 25 books. He also has hundreds of academic publications to his name and has received far too many honors and awards to list here. I strongly recommend that you explore his website at www.stanleykrippner.com to see just what an amazing career he has had. If you are at all interested in extra sensory perception, I recommend you read Dream Telepathy: Experiments in Nocturnal Extrasensory Perception (Studies in Consciousness) by Ullman, Krippner, and Vaughan. Dr. Krippner's autobiography, Song of The Siren: A Parapsychological Odyssey, which is out of print, would make a fascinating read if you can find a used copy on the net. He will be a presenter at this year's upcoming 32nd annual conference of the International Association for The Study of Dreams which will be held in Virginia Beach, June 5 – June 9, 2015.

Check out the following Psychology CE Courses based on listening to Shrink Rap Radio interviews:
Jungian Psychotherapy Part 1 (6 CEUs)
Jungian Psychotherapy Part 2 (7 CEUs)
Jungian Psychotherapy Part 3 (7 CEUs)
Jungian Psychotherapy Part 4 (6 CEUs)
Jungian Psychotherapy Part 5 (7 CEUs)
Jungian Psychotherapy Package of the Five Above (33 CEUs)
Wisdom of The Dream (4 CEUs)
Positive Psychology (6 CEUs)
Pros and Cons of Positive Psychology (5 CEUs)
The Fundamentals of Positive Psychology (7 CEUs)
CERTIFICATE PROGRAM IN POSITIVE PSYCHOLOGY (39 CEUs)
Body-Mind: Goodbye to Dualism (6 CEUs)
Brain: Insights from Neuroscience (8 CEUs)
Meditation & Psychotherapy (8 CEUs)
Crisis & Trauma: Identification, Assessment, & Treatment (15 CEUs)
Neuroscience and Healing (8 CEUs)
NEW! Holistic & Nutritional Approaches to Treating Psychological Disorders (5 CEUs)
NEW! Holistic Psychotherapy: Treating The Whole Person (6 CEUs)
or check out the
NEW! Complementary and Alternative Medicine Certificate Course (43 CEUs)
NEW! Ego States Psychotherapy: Engaging the Personality's Different Parts in Psychotherapy (5 CEUs)
NEW! Get 10% discount on all courses above offered through the Zur Institute using discount code: DRDAVE88
Get 10% discount on all lectures at The JungPlatform using our discount code: DRDAVE
You can also earn CEU's by going to another partner website at Ed4Online!
A psychology podcast by David Van Nuys, Ph.D.
copyright 2015: David Van Nuys, Ph.D.
Podcast: Play in new window | Download