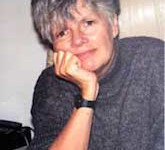 Sebern F. Fisher, MA, is a psychotherapist and neurofeedback practitioner in private practice who specializes in attachment issues. She trains professionals nationally and internationally on neurofeedback, neurofeedback and attachment disorder, and the integration of neurofeedback with psychotherapy.
Sebern attended the Masters School before she went to Smith College, Columbia University and the University of Massachusetts. She graduated with a B.S. from the University in 1976. She graduated from Antioch New-England with a Masters in Counseling Psychology in 1978.
Sebern initiated and co-produced a women's consciousness raising show on WBAI in New York from 1969 and 1970.
She co-founded and helped to administer the first publically funded day care center in New York City, the Children's Mansion, 1968-1971.
Sebern was one of the founders of the Family Planning Council of Western Massachusetts (now Tapestry Health) which began with one rural clinic in 1973. She started work there as a family planning counselor and by the time she left that organization in 1979, she was the Director of Training and Education. During her tenure, she mounted two major conferences. Men, Women and Rape in 1976 featuring Susan Brownmiller, Ann Burgess and Nicholas Groff and the second on Sex Education and the Family in 1978.
From 1980 to 1997, Sebern was the clinical director of a residential treatment program for severely disturbed adolescents in western Massachusetts. At that time, it was considered to be one of the best such programs in the state and, by in large, the treatment outcomes were abysmal. In efforts to better understand these kids and to enhance treatment outcomes , she introduced attachment theory in the mid eighties and in 1991, Dialectical Behavior Therapy. Her center became the first in the nation to adopt and implement DBT in a residential milieu.
Sebern discovered neurofeedback for her own brain in the spring of 1996. She went into full time private practice in 1997 and began to integrate neurofeedback with psychodynamic psychotherapy. Her book, Neurofeedback in the Treatment of Developmental Trauma: Calming the fear-driven Brain is a direct result of this work.
Sebern trains and consults in the implementation of neurofeedback and on the integration of psychotherapy and neurofeedback nationally and internationally.
Sebern is married to John Fisher, a former CEO of EEG Spectrum, a neurofeedback company in California, a consultant on landlord-tenant law in Massachusetts, the author of the book, Property Management for Massachusetts Rental Owners and the managing director of the Foundation for Neurofeedback and Applied Neuroscience. They have three children John, Molly and Blake and three grandchildren, Jakob, Luke and Emily. Their youngest daughter Blake also has a practice in neurofeedback where she specializes in the treatment of children and their families.
Check out the following Psychology CE Courses based on listening to Shrink Rap Radio interviews:
Jungian Psychotherapy Part 1 (6 CEUs)
Jungian Psychotherapy Part 2 (7 CEUs)
Jungian Psychotherapy Part 3 (7 CEUs)
Jungian Psychotherapy Part 4 (6 CEUs)
Jungian Psychotherapy Part 5 (7 CEUs)
Jungian Psychotherapy Package of the Five Above (33 CEUs)
Wisdom of The Dream (4 CEUs)
Positive Psychology (6 CEUs)
Pros and Cons of Positive Psychology (5 CEUs)
The Fundamentals of Positive Psychology (7 CEUs)
CERTIFICATE PROGRAM IN POSITIVE PSYCHOLOGY (39 CEUs)
Body-Mind: Goodbye to Dualism (6 CEUs)
Brain: Insights from Neuroscience (8 CEUs)
Meditation & Psychotherapy (8 CEUs)
Crisis & Trauma: Identification, Assessment, & Treatment (15 CEUs)
Neuroscience and Healing (8 CEUs)
NEW! Holistic & Nutritional Approaches to Treating Psychological Disorders (5 CEUs)
NEW! Holistic Psychotherapy: Treating The Whole Person (6 CEUs)
or check out the
NEW! Complementary and Alternative Medicine Certificate Course (43 CEUs)
NEW! Ego States Psychotherapy: Engaging the Personality's Different Parts in Psychotherapy (5 CEUs)
NEW! Get 10% discount on all courses above offered through the Zur Institute using discount code: DRDAVE88
Get 10% discount on all lectures at The JungPlatform using our discount code: DRDAVE
You can also earn CEU's by going to another partner website at Ed4Online!
A psychology podcast by David Van Nuys, Ph.D.
copyright 2015: David Van Nuys, Ph.D.
Podcast: Play in new window | Download