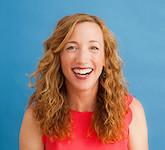 A sociologist and happiness expert at UC Berkeley's Greater Good Science Center, Christine Carter, Ph.D., is the author of The Sweet Spot: How to Find Your Groove at Home and Work (January 2015) and Raising Happiness (2011).
After receiving her B.A. from Dartmouth College, where she was a Senior Fellow, Dr. Carter worked in marketing management and school administration, going on to receive her Ph.D. in sociology from UC Berkeley.
Dr. Carter has been quoted or featured in The New York Times, the Los Angeles Times, USA Today, the Chicago Tribune, the San Francisco Chronicle, The Washington Post, the Boston Globe, as well as Good Housekeeping, Parenting, Martha Stewart's Whole Living, Fitness, Redbook, and dozens of other publications. She has appeared on the "Oprah Winfrey Show," the "Dr. Oz Show", the "TODAY" show, the "Rachael Ray Show," "The Daily Show with Jon Stewart," "CBS Sunday Morning," "ABC World News with Diane Sawyer", PBS, as well as NPR and BBC Radio.

A sought-after keynote speaker, Dr. Carter loves to share her work with new audiences. Combining scientific research and practical application, Dr. Carter offers audiences not just a way to cope with modern pressures, but a way to truly thrive. Speaking to executives, general audiences, and working parents, Dr. Carter looks at living life from our "sweet spot"—that place of both power and ease.
Dr. Carter also writes an award-winning blog, which is frequently syndicated on the HuffingtonPost, PsychologyToday.com, PositivelyPositive.com, Medium.com, and several other websites. She has been nominated twice for an award from the American Sociological Association for public sociology.
She lives with her husband, four kids, and dog Buster in Marin County, California.

Check out the following Psychology CE Courses based on listening to Shrink Rap Radio interviews:
Jungian Psychotherapy Part 1 (6 CEUs)
Jungian Psychotherapy Part 2 (7 CEUs)
Jungian Psychotherapy Part 3 (7 CEUs)
Jungian Psychotherapy Part 4 (6 CEUs)
Jungian Psychotherapy Part 5 (7 CEUs)
Jungian Psychotherapy Package of the Five Above (33 CEUs)
Wisdom of The Dream (4 CEUs)
Positive Psychology (6 CEUs)
Pros and Cons of Positive Psychology (5 CEUs)
The Fundamentals of Positive Psychology (6 CEUs)
CERTIFICATE PROGRAM IN POSITIVE PSYCHOLOGY (32 CEUs)
Body-Mind: Goodbye to Dualism (6 CEUs)
Brain: Insights from Neuroscience (8 CEUs)
Meditation & Psychotherapy (8 CEUs)
Crisis & Trauma: Identification, Assessment, & Treatment (15 CEUs)
Neuroscience and Healing (8 CEUs)
NEW! Holistic & Nutritional Approaches to Treating Psychological Disorders (5 CEUs)
NEW! Holistic Psychotherapy: Treating The Whole Person (6 CEUs)
or check out the
NEW! Complementary and Alternative Medicine Certificate Course (43 CEUs)
NEW! Ego States Psychotherapy: Engaging the Personality's Different Parts in Psychotherapy (5 CEUs)
NEW! Get 10% discount on all courses above offered through the Zur Institute using discount code: DRDAVE88
Get 10% discount on all lectures at The JungPlatform using our discount code: DRDAVE
You can also earn CEU's by going to another partner website at Ed4Online!
A psychology podcast by David Van Nuys, Ph.D.
copyright 2015: David Van Nuys, Ph.D.
Podcast: Play in new window | Download