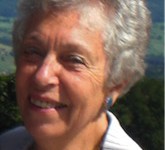 French Jungian Analyst Imelda Gaudissart was born in Belgium in 1934. Education: B.S. in Psychiatric Nursing. Marriage there, in 1961 "emigration" to the USA. Husband Pierre attends M.I.T. I mother our growing family + Studies toward Diploma in Photography.
In 1969 return to Europe (France) with five children. In 1974 back to University (Paris) toward an M.S. in Psychoanalysis and Psycho-Pathology. Meanwhile training at Paris Jungian Institute. 1980 to 1986 Psychotherapist in a Cancer Ward while entering private Practice as Jungian analyst. Still in a limited activity. Co-author with Pierre of a new French translation of the Yi Jing (I Ching). 2010 Publication of Emma Jung's book in French, 2014 in American. We live in France on the "Loire Valley"!
Also, I want to let you know that you can receive a 15% discount on a DVD of a webinar that Imelda Gaudissart conducted for our strategic partner the Asheville Jung Center. Just go to www.ashevillejungcenter.org/rap for full details and your already discounted price of $16.95.

Check out the following Psychology CE Courses based on listening to Shrink Rap Radio interviews:
Jungian Psychotherapy Part 1 (6 CEUs)
Jungian Psychotherapy Part 2 (7 CEUs)
Jungian Psychotherapy Part 3 (7 CEUs)
Jungian Psychotherapy Part 4 (6 CEUs)
Jungian Psychotherapy Part 5 (7 CEUs)
Jungian Psychotherapy Package of the Five Above (33 CEUs)
Wisdom of The Dream (4 CEUs)
Positive Psychology (6 CEUs)
Pros and Cons of Positive Psychology (5 CEUs)
The Fundamentals of Positive Psychology (6 CEUs)
CERTIFICATE PROGRAM IN POSITIVE PSYCHOLOGY (32 CEUs)
Body-Mind: Goodbye to Dualism (6 CEUs)
Brain: Insights from Neuroscience (8 CEUs)
Meditation & Psychotherapy (8 CEUs)
Crisis & Trauma: Identification, Assessment, & Treatment (15 CEUs)
Neuroscience and Healing (8 CEUs)
NEW! Holistic & Nutritional Approaches to Treating Psychological Disorders (5 CEUs)
NEW! Holistic Psychotherapy: Treating The Whole Person (6 CEUs)
or check out the
NEW! Complementary and Alternative Medicine Certificate Course (43 CEUs)
NEW! Ego States Psychotherapy: Engaging the Personality's Different Parts in Psychotherapy (5 CEUs)
NEW! Get 10% discount on all courses above offered through the Zur Institute using discount code: DRDAVE88
Get 10% discount on all lectures at The JungPlatform using our discount code: DRDAVE
You can also earn CEU's by going to another partner website at Ed4Online!
A psychology podcast by David Van Nuys, Ph.D.
copyright 2015: David Van Nuys, Ph.D.
Podcast: Play in new window | Download