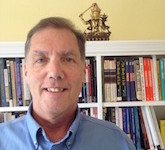 Ron Purser, Ph.D. is a professor of management at San Francisco State University where he has taught the last eighteen years in both the MBA and undergraduate business programs. Prior to moving to San Francisco, he taught at Loyola University of Chicago. He received his doctorate in organizational behavior at Case Western Reserve University. He is co-author of five books including, 24/7: Time and Temporality in the Network Society (Stanford University Press, 2007), and over 60 academic journal articles and book chapters. More recently, Prof. Purser writings have been exploring the challenges and issues of introducing mindfulness into secular contexts, particularly with regards to its encounter with modernity, Western consumer capitalism, and individualism.

In 1981, he began attending classes and retreats at the Tibetan Nyingma Institute in Berkeley. His formal Zen training started at the Cleveland Zen Center in 1985 under Koshin Ogui Sensei, who had been Shunryu Suzuki's personal assistant in the early 1960's. After returning to San Francisco in 1997, he continued to study and practice with Zen teachers and Tibetan lamas, is now an ordained Dharma instructor in the Korean Zen Buddhist Taego order. His professional writings and publications currently focus on the application of Buddhist psychology and mindfulness practices to management, and organizations. His recent articles include Revisiting Mindfulness: A Buddhist-Based Conceptualization (with Joe Milillo at Harvard); Zen and the Art of Organizational Maintenance; Zen and the Creative Management of Dilemmas (with Albert Low); Deconstructing Lack: A Buddhist Perspective on Egocentric Organizations; and A Buddhist-Lacanian Perspective on Lack. His articles Beyond McMindfulness (Huffington Post) and Mindfulness' Truthiness Problem (Salon.com) went viral in 2013 and 2014.


Check out the following Psychology CE Courses based on listening to Shrink Rap Radio interviews:
Jungian Psychotherapy Part 1 (6 CEUs)
Jungian Psychotherapy Part 2 (7 CEUs)
Jungian Psychotherapy Part 3 (7 CEUs)
Jungian Psychotherapy Part 4 (6 CEUs)
Jungian Psychotherapy Part 5 (7 CEUs)
Jungian Psychotherapy Package of the Five Above (33 CEUs)
Wisdom of The Dream (4 CEUs)
Positive Psychology (6 CEUs)
Pros and Cons of Positive Psychology (5 CEUs)
The Fundamentals of Positive Psychology (6 CEUs)
CERTIFICATE PROGRAM IN POSITIVE PSYCHOLOGY (32 CEUs)
Body-Mind: Goodbye to Dualism (6 CEUs)
Brain: Insights from Neuroscience (8 CEUs)
Meditation & Psychotherapy (8 CEUs)
Crisis & Trauma: Identification, Assessment, & Treatment (15 CEUs)
Neuroscience and Healing (8 CEUs)
NEW! Holistic & Nutritional Approaches to Treating Psychological Disorders (5 CEUs)
NEW! Holistic Psychotherapy: Treating The Whole Person (6 CEUs)
or check out the
NEW! Complementary and Alternative Medicine Certificate Course (43 CEUs)
NEW! Get 10% discount on all courses above offered through the Zur Institute using discount code: DRDAVE88
Get 10% discount on all lectures at The JungPlatform using our discount code: DRDAVE
You can also earn CEU's by going to another partner website at Ed4Online!
A psychology podcast by David Van Nuys, Ph.D.
copyright 2014: David Van Nuys, Ph.D.
Podcast: Play in new window | Download