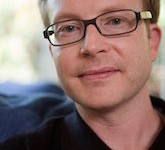 Elisha Goldstein, PhD is a psychologist, author and speaker who synthesizes the pearls of traditional psychotherapy with a progressive integration of mindfulness to achieve mental and emotional healing. Dr. Goldstein is the co-founder of The Center for Mindful Living in Los Angeles and has published extensively and is author of numerous articles, chapters, and blogs. These include Uncovering Happiness: Overcoming Depression with Mindfulness and Self-Compassion, the bestselling book The Now Effect: How This Moment Can Change the Rest of Your Life, Mindfulness Meditations for the Anxious Traveler and co-author of A Mindfulness-Based Stress Reduction Workbook and MBSR Everyday: Daily Practices from the Heart of Mindfulness-Based Stress Reduction.

He has also created the Mindfulness at Work program for eMindful.com recognized by the National Business Group on Health for its success in stress management. And co-developed CALM – Connecting Adolescents to Learning Mindfulness with his wife Stefanie Goldstein, PhD.
Dr. Goldstein's unique ability to make complex concepts simple has led him to be invited to speak nationally and internationally with mental health professionals, educators, business leaders and lay audiences.
Check out the following Psychology CE Courses based on listening to Shrink Rap Radio interviews:
Jungian Psychotherapy Part 1 (6 CEUs)
Jungian Psychotherapy Part 2 (7 CEUs)
Jungian Psychotherapy Part 3 (7 CEUs)
Jungian Psychotherapy Part 4 (6 CEUs)
Jungian Psychotherapy Part 5 (7 CEUs)
Jungian Psychotherapy Package of the Five Above (33 CEUs)
Wisdom of The Dream (4 CEUs)
Positive Psychology (6 CEUs)
Pros and Cons of Positive Psychology (5 CEUs)
The Fundamentals of Positive Psychology (6 CEUs)
CERTIFICATE PROGRAM IN POSITIVE PSYCHOLOGY (32 CEUs)
Body-Mind: Goodbye to Dualism (6 CEUs)
Brain: Insights from Neuroscience (8 CEUs)
Meditation & Psychotherapy (8 CEUs)
Crisis & Trauma: Identification, Assessment, & Treatment (15 CEUs)
Neuroscience and Healing (8 CEUs)
NEW! Holistic & Nutritional Approaches to Treating Psychological Disorders (5 CEUs)
NEW! Holistic Psychotherapy: Treating The Whole Person (6 CEUs)
or check out the
NEW! Complementary and Alternative Medicine Certificate Course (43 CEUs)
NEW! Get 10% discount on all courses above offered through the Zur Institute using discount code: DRDAVE88
Get 10% discount on all lectures at The JungPlatform using our discount code: DRDAVE
You can also earn CEU's by going to another partner website at Ed4Online!
A psychology podcast by David Van Nuys, Ph.D.
copyright 2014: David Van Nuys, Ph.D.
Podcast: Play in new window | Download