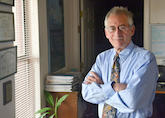 Barry Krakow MD is a board certified internist and sleep disorders specialist, who has studied and practiced for 30 years in the fields of internal medicine, emergency medicine, addiction medicine, and sleep medicine. Currently, he is medical director of two sleep facilities in Albuquerque, NM: Maimonides Sleep Arts & Sciences, Ltd, a community-based, sleep medical center and the Sleep & Human Health Institute, a non-profit sleep research institute. He has published nearly 100 peer-reviewed research papers, abstracts, book chapters and white papers in leading scientific publications with a special emphasis on sleep disorders in mental health patients, and which included several breakthrough findings that connect sleep and mental disorders. He has also authored three books on sleep disorders, Insomnia Cures, Turning Nightmares into Dreams, and Sound Sleep, Sound Mind. Dr. Krakow's comprehensive sleep disorders' treatment model has been featured in the New Yorker (2009), New York Times (2010, 2012), TIME Magazine (2012), and Washington Post (2013). In the past two years, Dr. Krakow has been heavily involved in training programs, workshops, and symposium presentations to educate and train medical and mental health providers on the Sleep Dynamic Therapy™ integrated model of care.
Here is the link to the video describing his latest insomnia research.
Check out the following Psychology CE Courses based on listening to Shrink Rap Radio interviews:
Jungian Psychotherapy Part 1 (6 CEUs)
Jungian Psychotherapy Part 2 (7 CEUs)
Jungian Psychotherapy Part 3 (7 CEUs)
Jungian Psychotherapy Part 4 (6 CEUs)
Jungian Psychotherapy Part 5 (7 CEUs)
Jungian Psychotherapy Package of the Five Above (33 CEUs)
Wisdom of The Dream (4 CEUs)
Positive Psychology (6 CEUs)
Pros and Cons of Positive Psychology (5 CEUs)
The Fundamentals of Positive Psychology (6 CEUs)
CERTIFICATE PROGRAM IN POSITIVE PSYCHOLOGY (32 CEUs)
Body-Mind: Goodbye to Dualism (6 CEUs)
Brain: Insights from Neuroscience (8 CEUs)
Meditation & Psychotherapy (8 CEUs)
Crisis & Trauma: Identification, Assessment, & Treatment (15 CEUs)
Neuroscience and Healing (8 CEUs)
NEW! Holistic & Nutritional Approaches to Treating Psychological Disorders (5 CEUs)
Get 10% discount on all lectures at The JungPlatform using our discount code: DRDAVE
You can also earn CEU's by going to another partner website at Ed4Online!
A psychology podcast by David Van Nuys, Ph.D.
copyright 2014: David Van Nuys, Ph.D.
Podcast: Play in new window | Download