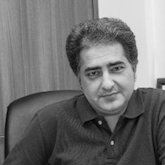 Nima Ghorbani, PhD, is a Professor of Psychology at the University of Tehran, and is also a certified Intensive Short-Term Dynamic Psychotherapist in Tehran, Iran. He has developed the Integrative Self-Knowledge construct with the assistance of Professor P. J. Watson from the University of Tennessee at Chattanooga, as a model to explain changes within the personality based on such a core intrapsychic process. This is a construct which aims to explain one of the intrapersonal processes of change in experiential and self-knowledge based psychotherapies. Dr. Ghorbani's cross-cultural research is mostly focused on integrative self-knowledge, self-control, mindfulness, and experiential aspects of religiousness. He has published many research articles on these topics in professional, peer-review journals. His research is based on hermeneutical-dialogical empiricism in which observer and observed are objectively examined in intrapersonal, interpersonal, and inter-cultural levels.
Check out the following Psychology CE Courses based on listening to Shrink Rap Radio interviews:
Jungian Psychotherapy Part 1 (6 CEUs)
Jungian Psychotherapy Part 2 (7 CEUs)
Jungian Psychotherapy Part 3 (7 CEUs)
Jungian Psychotherapy Part 4 (6 CEUs)
Jungian Psychotherapy Part 5 (7 CEUs)
Jungian Psychotherapy Package of the Five Above (33 CEUs)
Wisdom of The Dream (4 CEUs)
Positive Psychology (6 CEUs)
Pros and Cons of Positive Psychology (5 CEUs)
The Fundamentals of Positive Psychology (6 CEUs)
CERTIFICATE PROGRAM IN POSITIVE PSYCHOLOGY (32 CEUs)
Body-Mind: Goodbye to Dualism (6 CEUs)
Brain: Insights from Neuroscience (8 CEUs)
Meditation & Psychotherapy (8 CEUs)
Crisis & Trauma: Identification, Assessment, & Treatment (15 CEUs)
Neuroscience and Healing (8 CEUs)
NEW! Holistic & Nutritional Approaches to Treating Psychological Disorders (5 CEUs)
Get 10% discount on all lectures at The JungPlatform using our discount code: DRDAVE
You can also earn CEU's by going to another partner website at Ed4Online!
A psychology podcast by David Van Nuys, Ph.D.
copyright 2014: David Van Nuys, Ph.D.
Podcast: Play in new window | Download