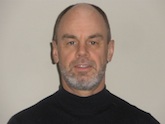 Mark Winborn, PhD, NCPsyA is a Jungian Psychoanalyst and Clinical Psychologist. He is a training and supervising analyst of the Inter-Regional Society of Jungian Analysts and is also affiliated with the National Association for the Advancement of Psychoanalysis and the International Association for Analytical Psychology. He was recently nominated to the Accreditation Committee of the American Board for Accreditation in Psychoanalysis. In 2011 he published Deep Blues: Human Soundscapes for the Archetypal Journey with Fisher King Press. His second book, Shared Realties: Participation Mystique and Beyond, has just been published in 2014. He lectures nationally and internationally. Dr. Winborn maintains a private practice in Memphis, Tennessee where he is also currently the Training Coordinator for the Memphis Jungian Seminar – a training seminar of the IRSJA.

Apart from his analytic activities, He's also had a long standing interest in music – playing blues for a year on Beale Street in Memphis with the Blue Blake Trio and later playing bluegrass for four years with The Wolf River Travelers. He's also regularly engaged in physical activity – running, bicycling, weightlifting, and backpacking.
Check out the following Psychology CE Courses based on listening to Shrink Rap Radio interviews:
Jungian Psychotherapy Part 1 (6 CEUs)
Jungian Psychotherapy Part 2 (7 CEUs)
Jungian Psychotherapy Part 3 (7 CEUs)
Jungian Psychotherapy Part 4 (6 CEUs)
Jungian Psychotherapy Part 5 (7 CEUs)
Jungian Psychotherapy Package of the Five Above (33 CEUs)
Wisdom of The Dream (4 CEUs)
Positive Psychology (6 CEUs)
Pros and Cons of Positive Psychology (5 CEUs)
NEW! The Fundamentals of Positive Psychology (6 CEUs)
CERTIFICATE PROGRAM IN POSITIVE PSYCHOLOGY (32 CEUs)
Body-Mind: Goodbye to Dualism (6 CEUs)
Brain: Insights from Neuroscience (8 CEUs)
Meditation & Psychotherapy (8 CEUs)
NEW! Crisis & Trauma: Identification, Assessment, & Treatment (15 CEUs)
Neuroscience and Healing (8 CEUs)
NEW! The Psychology of Relationships (7 CEUs)
Get 10% discount on all lectures at The JungPlatform using our discount code: DRDAVE
You can also earn CEU's by going to another partner website at Ed4Online!
A psychology podcast by David Van Nuys, Ph.D.
copyright 2014: David Van Nuys, Ph.D.
Podcast: Play in new window | Download