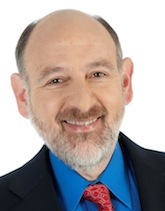 James M. Greenblatt, MD, a pioneer in the field of integrative medicine, has treated patients with mood disorders and complex eating disorders since 1990. After receiving his medical degree and completing his psychiatry residency at George Washington University, Dr. Greenblatt went on to complete a fellowship in child and adolescent psychiatry at Johns Hopkins Medical School. An acknowledged integrative medicine expert, Dr. Greenblatt has lectured throughout the United States on the scientific evidence for nutritional interventions in psychiatry and mental illness.
His books, Answers to Anorexia and The Breakthrough Depression Solution, draw on his many years of experience and expertise in integrative medicine while treating patients with eating and mood disorders. Dr. Greenblatt's knowledge in the areas of biology, genetics, psychology, and nutrition as they interact in the treatment of mental illness has led to numerous interviews by the media on television as well as in written articles for consumer audiences.
Dr. Greenblatt currently serves as the Chief Medical Officer at Walden Behavioral Care in Waltham, MA and serves as an Assistant Clinical Professor of Psychiatry at Tufts University School of Medicine. He is also the Founder and Medical Director of Comprehensive Psychiatric Resources, a private psychiatric practice focused on utilizing integrative medicine.
His third book, Answers to Appetite Control, will be published at the end of April 2014.
Click here for the article we discuss in this interview!
Check out the following Psychology CE Courses based on listening to Shrink Rap Radio interviews:
Jungian Psychotherapy Part 1 (6 CEUs)
Jungian Psychotherapy Part 2 (7 CEUs)
Jungian Psychotherapy Part 3 (7 CEUs)
Jungian Psychotherapy Part 4 (6 CEUs)
Jungian Psychotherapy Part 5 (7 CEUs)
Jungian Psychotherapy Package of the Five Above (33 CEUs)
Wisdom of The Dream (4 CEUs)
Positive Psychology (6 CEUs)
Pros and Cons of Positive Psychology (5 CEUs)
NEW! The Fundamentals of Positive Psychology (6 CEUs)
CERTIFICATE PROGRAM IN POSITIVE PSYCHOLOGY (32 CEUs)
Body-Mind: Goodbye to Dualism (6 CEUs)
Brain: Insights from Neuroscience (8 CEUs)
Meditation & Psychotherapy (8 CEUs)
NEW! Crisis & Trauma: Identification, Assessment, & Treatment (15 CEUs)
Neuroscience and Healing (8 CEUs)
NEW! The Psychology of Relationships (7 CEUs)
Get 10% discount on all lectures at The JungPlatform using our discount code: DRDAVE
You can also earn CEU's by going to another partner website at Ed4Online!
A psychology podcast by David Van Nuys, Ph.D.
copyright 2014: David Van Nuys, Ph.D.
Podcast: Play in new window | Download