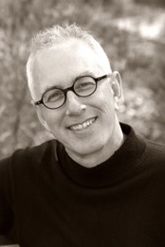 Bill O'Hanlon, MS, LMFT, has authored or co-authored 36 books, the latest being Out of the Blue: Six Non-Medication Ways To Relieve Depression (W.W. Norton, April 2014). He has written a book on Positive Psychology called The Therapist's Notebook on Positive Psychology (Routledge, 2012).. His books have been translated into 16 languages: French, Spanish, Portuguese, Swedish, Finnish, German, Chinese, Bulgarian, Turkish, Korean, Indonesian, Italian, Croatian, Arabic, Russian and Japanese. He has appeared on Oprah (with his book Do One Thing Different), The Today Show, and a variety of other television and radio programs. Since 1977, Bill has given over 3000 talks around the world. He has been a top-rated presenter at many national conferences and was awarded the Outstanding Mental Health Educator of the Year in 2001 by the New England Educational Institute.
Bill is a Licensed Mental Health Professional, Certified Professional Counselor, and a Licensed Marriage and Family Therapist. Bill is clinical member of AAMFT (and winner of the 2003 New Mexico AMFT Distinguished Service Award), certified by the National Board of Certified Clinical Hypnotherapists and a Fellow and a Board Member of the American Psychotherapy Association. He is known for his storytelling, irreverent humor, clear and accessible style and his boundless enthusiasm for whatever he is doing.
Check out the following Psychology CE Courses based on listening to Shrink Rap Radio interviews:
Jungian Psychotherapy Part 1 (6 CEUs)
Jungian Psychotherapy Part 2 (7 CEUs)
Jungian Psychotherapy Part 3 (7 CEUs)
Jungian Psychotherapy Part 4 (6 CEUs)
Jungian Psychotherapy Part 5 (7 CEUs)
Jungian Psychotherapy Package of the Five Above (33 CEUs)
Wisdom of The Dream (4 CEUs)
Positive Psychology (6 CEUs)
Pros and Cons of Positive Psychology (5 CEUs)
NEW! The Fundamentals of Positive Psychology (6 CEUs)
CERTIFICATE PROGRAM IN POSITIVE PSYCHOLOGY (32 CEUs)
Body-Mind: Goodbye to Dualism (6 CEUs)
Brain: Insights from Neuroscience (8 CEUs)
Meditation & Psychotherapy (8 CEUs)
NEW! Crisis & Trauma: Identification, Assessment, & Treatment (15 CEUs)
Neuroscience and Healing (8 CEUs)
NEW! The Psychology of Relationships (7 CEUs)
Get 10% discount on all lectures at The JungPlatform using our discount code: DRDAVE
You can also earn CEU's by going to another partner website at Ed4Online!
A psychology podcast by David Van Nuys, Ph.D.
copyright 2014: David Van Nuys, Ph.D.
Podcast: Play in new window | Download