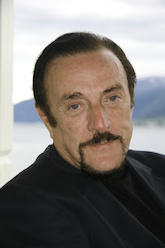 Philip Zimbardo PhD is one of the most distinguished living psychologists, having served as President of the American Psychological Association, designed and narrated the award winning 26-part PBS series, Discovering Psychology, and has published more than 50 books and 400 professional and popular articles and chapters, among them, Shyness, The Lucifer Effect, The Time Cure and The Time Paradox.
A professor emeritus at Stanford University, Dr. Zimbardo has spent 57 years teaching and studying psychology. He received his Ph.D. in psychology from Yale University, and his areas of focus include time perspective, shyness, terrorism, madness, and evil. Best-known for his controversial Stanford Prison Experiment that highlighted the ease with which ordinary intelligent college students could cross the line between good and evil when caught up in the matrix of situational and systemic forces.
Dr. Zimbardo is currently teaching in the PsyD consortium program at Palo Alto University and lecturing worldwide. His current research looks at the psychology of heroism. He asks: "What pushes some people to become perpetrators of evil, while others act heroically on behalf of those in need?"

Check out the following Psychology CE Courses based on listening to Shrink Rap Radio interviews:
Jungian Psychotherapy Part 1 (6 CEUs)
Jungian Psychotherapy Part 2 (7 CEUs)
Jungian Psychotherapy Part 3 (7 CEUs)
Jungian Psychotherapy Part 4 (6 CEUs)
Jungian Psychotherapy Part 5 (7 CEUs)
Jungian Psychotherapy Package of the Five Above (33 CEUs)
Wisdom of The Dream (4 CEUs)
Positive Psychology (6 CEUs)
Pros and Cons of Positive Psychology (5 CEUs)
CERTIFICATE PROGRAM IN POSITIVE PSYCHOLOGY (32 CEUs)
Body-Mind: Goodbye to Dualism (6 CEUs)
Brain: Insights from Neuroscience (8 CEUs)
Meditation & Psychotherapy (8 CEUs)
NEW! Crisis & Trauma: Identification, Assessment, & Treatment (15 CEUs)
Neuroscience and Healing (8 CEUs)
NEW! The Psychology of Relationships (7 CEUs)
Get 10% discount on all lectures at The JungPlatform using our discount code: DRDAVE
You can also earn CEU's by going to another partner website at Ed4Online!
A psychology podcast by David Van Nuys, Ph.D.
copyright 2014: David Van Nuys, Ph.D.
Podcast: Play in new window | Download