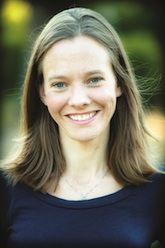 Jessica Grogan, Ph.D., is the author of Encountering America: Humanistic Psychology, Sixties Culture, and the Shaping of the Modern Self (January 2013, Harper Perennial). After majoring in psychology at Vassar college, she performed her graduate work at the University of Texas and Texas State in American studies and professional counseling. She has taught courses on American history, sixties culture, and psychology at Southwestern University, the University of Texas, and Mount Holyoke College.
Dr. Grogan's research covers a range of topics related to psychology and American culture. She has presented papers on humanistic psychology, American psychotherapy, psychedelics, Alcoholics Anonymous, the philosophy of psychological science, and the relationship of psychology to women's liberation and civil rights for the American Studies Association, the American Historical Association, Cheiron International Association for the History of Social and Behavioral Sciences, and the American Psychology Association.
Originally from Connecticut, Grogan now lives in Austin, Texas with her husband, writer Daniel Oppenheimer, and her two children, Jolie and Asa.


Check out the following Psychology CE Courses based on listening to Shrink Rap Radio interviews:
Jungian Psychotherapy Part 1 (6 CEUs)
Jungian Psychotherapy Part 2 (7 CEUs)
Jungian Psychotherapy Part 3 (7 CEUs)
Jungian Psychotherapy Part 4 (6 CEUs)
Jungian Psychotherapy Part 5 (7 CEUs)
Jungian Psychotherapy Package of the Five Above (33 CEUs)
Wisdom of The Dream (4 CEUs)
Positive Psychology (6 CEUs)
Pros and Cons of Positive Psychology (5 CEUs)
CERTIFICATE PROGRAM IN POSITIVE PSYCHOLOGY (32 CEUs)
Body-Mind: Goodbye to Dualism (6 CEUs)
Brain: Insights from Neuroscience (8 CEUs)
Meditation & Psychotherapy (8 CEUs)
Insights from Neuroscience (8 CEUs)
Neuroscience and Healing (8 CEUs)
Get 10% discount on all lectures at The JungPlatform using our discount code: DRDAVE

A psychology podcast by David Van Nuys, Ph.D.
copyright 2013: David Van Nuys, Ph.D.
Podcast: Play in new window | Download