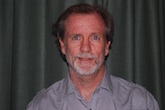 Australian psychologist, Dr. James Alexander is author of the 2012 book, The Hidden Psychology of Pain. By way of biographical statement, Dr. Alexander writes: I became a psychologist after the harrowing experience of being nearly killed in a car accident as an 18 year old, when my VW Kombi van was hit by a drunk in a head on car accident, the van collapsed in on my legs and trapped me in a badly injured state for the next 2 1/2 hours before being freed. In addition to being very physically damaged, I was emotionally traumatized by the experience.
Use DRDAVE for 10% off Coleman Barks presentation. Click here for info.
When I began to physically recover, I found a collection of pop-psychology self help books in my fathers book shelf, and my psychological recovery began. Within the year, I decided I wanted to become a psychologist so as to help other people that had been similarly traumatized. This was 30 years ago, and for the last 25 years, I have been providing psychological services to a broad range of people in hospital settings, pain management clinics, rehabilitation services, and for the last 10 years, in private practice in NSW, Australia. I have a PhD in clinical health psychology, and because of my interest in mind/body health issues from this, as well as resulting from the chronic pain which I experienced for 18 years following my accident, I have chosen to specialize in the psychological treatment of chronic pain and psychological trauma. Whilst open to a range of approaches, I am these days primarily an EMDR practitioner. Ironically, this approach has opened me up to depth-psychology approaches as well. I am a founding Fellow and current Board member of the Australian Association of Psychologists.�
Check out the following Psychology CE Courses based on listening to Shrink Rap Radio interviews:
Jungian Psychotherapy Part 1 (6 CEUs)
Jungian Psychotherapy Part 2 (7 CEUs)
Jungian Psychotherapy Part 3 (7 CEUs)
Jungian Psychotherapy Part 4 (6 CEUs)
Jungian Psychotherapy Part 5 (7 CEUs)
Jungian Psychotherapy Package of the Five Above (33 CEUs)
Wisdom of The Dream (4 CEUs)
Positive Psychology (6 CEUs)
Pros and Cons of Positive Psychology (5 CEUs)
CERTIFICATE PROGRAM IN POSITIVE PSYCHOLOGY (32 CEUs)
Body-Mind: Goodbye to Dualism (6 CEUs)
Brain: Insights from Neuroscience (8 CEUs)
Meditation & Psychotherapy (8 CEUs)
Insights from Neuroscience (8 CEUs)
Neuroscience and Healing (8 CEUs)
Get 10% discount on all lectures at The JungPlatform using our discount code: DRDAVE

A psychology podcast by David Van Nuys, Ph.D.
copyright 2013: David Van Nuys, Ph.D.
Podcast: Play in new window | Download