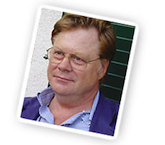 Michael C. Heller, Ph.D. is a USA and Swiss citizen, born in Paris. Dr. Heller is the author of the definitive 2012 book, Body Psychotherapy: History, Concepts, Methods. He is a psychologist who has studied, as a researcher and a clinician, the relation between mind and body. As a researcher, he has primarily studied the nonverbal behavior of suicidal and depressive patients in the Geneva University Psychiatric Institutions. As a clinician, he trained in body psychotherapy in Gerda Boyesen's school, and has participated in the development of body psychotherapy with his colleagues of the European Association of Body Psychotherapy (EABP). He has participated in the creation of several journals in the field of body psychotherapy, and has occupied key posts in the EABP (Vice-president, chair of the Ethics Committee and Scientific Committee). He publishes and teaches regularly on clinical and research issues related to body and mind. He is now psychotherapist and supervisor in Lausanne, Switzerland, while continuing to teach and publish at an international level.


Check out the following Psychology CE Courses based on listening to Shrink Rap Radio interviews:
Jungian Psychotherapy Part 1 (6 CEUs)
Jungian Psychotherapy Part 2 (7 CEUs)
Jungian Psychotherapy Part 3 (7 CEUs)
Jungian Psychotherapy Part 4 (6 CEUs)
Jungian Psychotherapy Part 5 (7 CEUs)
Jungian Psychotherapy Package of the Five Above (33 CEUs)
Wisdom of The Dream (4 CEUs)
Positive Psychology (6 CEUs)
Pros and Cons of Positive Psychology (5 CEUs)
CERTIFICATE PROGRAM IN POSITIVE PSYCHOLOGY (32 CEUs)
Body-Mind: Goodbye to Dualism (6 CEUs)
Meditation & Psychotherapy (8 CEUs)
Get our iPhone/Android app!
Get 25% discount on all lectures at The JungPlatform using our discount code: DRDAVE

A psychology podcast by David Van Nuys, Ph.D.
copyright 2012: David Van Nuys, Ph.D.
Podcast: Play in new window | Download