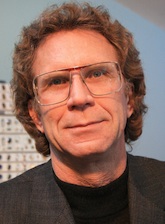 Rollin McCraty, Ph.D. has worked with the Institute of HeartMath since its inception in 1991. Working with the Institute's founder Doc Childre, Dr. McCraty developed the organization's research goals and created the Institute's Scientific Advisory Board.
Dr. McCraty is a Fellow of the American Institute of Stress, holds memberships with the International Neurocardiology Network, American Autonomic Society, Pavlovian Society and Association for Applied Psychophysiology and Biofeedback and he is an adjunct professor at Claremont Graduate University.

Dr. McCraty and his research team regularly participate in collaborative studies with other U.S. and international scientific, medical and educational institutions; they have worked in partnership with research groups at Stanford University, Dalhousie University in Halifax, Nova Scotia, and the Miami Heart Research Institute, among many others.
Dr. McCraty has authored dozens research studies, many of which have been published in peer reviewed journals including the American Journal of Cardiology, Journal of the American College of Cardiology, Stress Medicine, Biological Psychology and Integrative Physiological and Behavioral Science. In 2010, Alternative Therapies in Health & Medicine, a respected peer review journal, dedicated an entire issue to the topic of coherence. Dr. McCraty wrote the lead paper for this issue. Many of the other research studies represented in this issue examined the implications of HeartMath techniques and technology in a variety of settings and applications.
You can obtain a free eBook on HeartMath at http://www.heartmath.org/free-ebook-emotional-stress
Check out the following Psychology CE Courses based on listening to Shrink Rap Radio interviews:
Jungian Psychotherapy Part 1 (6 CEUs)
Jungian Psychotherapy Part 2 (7 CEUs)
Jungian Psychotherapy Part 3 (7 CEUs)
Jungian Psychotherapy Part 4 (6 CEUs)
Jungian Psychotherapy Package of the Four Above (26 CEUs)
Wisdom of The Dream (4 CEUs)
Positive Psychology (6 CEUs)
Pros and Cons of Positive Psychology (5 CEUs)
CERTIFICATE PROGRAM IN POSITIVE PSYCHOLOGY (32 CEUs)
Body-Mind: Goodbye to Dualism (6 CEUs)
Meditation & Psychotherapy (8 CEUs)
Get our iPhone/Android app!
Get 25% discount on all lectures at The JungPlatform using our discount code: DRDAVE
A psychology podcast by David Van Nuys, Ph.D.
copyright 2012: David Van Nuys, Ph.D.
Podcast: Play in new window | Download