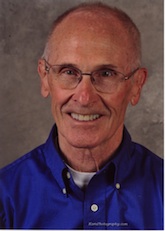 Robert Scaer, M.D. received his B.A. in Psychology, and his M.D. degree at the University of Rochester. He is Board Certified in Neurology, and has been in practice for 36 years, twenty of those as Medical Director of Rehabilitation Services at the Mapleton Center in Boulder, CO. His primary areas of interest and expertise have been in the fields of traumatic brain injury and chronic pain, and more recently in the study of traumatic stress and its role in physical and emotional symptoms, and in diseases.

He has lectured extensively on these topics, and has published several articles on posttraumatic stress disorder, dissociation, the whiplash syndrome and other somatic syndromes of traumatic stress. He has published three books, the first The Body Bears the Burden: Trauma, Dissociation and Disease, presenting a new theory of dissociation and its role in many diseases. A second edition of this book was released in October, 2007. A second book, The Trauma Spectrum: Hidden Wounds and Human Resiliency, addresses the broad and relatively unappreciated spectrum of cultural and societal trauma that shapes every aspect of our lives. A third book, Eight Keys to Brain/Body Balance, released in October, 2012, is geared to a lay audience, providing a practical understanding of the physiology of the brain/body interface and its role in healing stress and trauma. He is currently retired from clinical medical practice, and continues to pursue a career in writing and lecturing in the field of traumatology.
Check out the following Psychology CE Courses based on listening to Shrink Rap Radio interviews:
Jungian Psychotherapy Part 1 (6 CEUs)
Jungian Psychotherapy Part 2 (7 CEUs)
Jungian Psychotherapy Part 3 (7 CEUs)
Jungian Psychotherapy Part 4 (6 CEUs)
Jungian Psychotherapy Package of the Four Above (26 CEUs)
Wisdom of The Dream (4 CEUs)
Positive Psychology (6 CEUs)
Pros and Cons of Positive Psychology (5 CEUs)
CERTIFICATE PROGRAM IN POSITIVE PSYCHOLOGY (32 CEUs)
Body-Mind: Goodbye to Dualism (6 CEUs)
Meditation & Psychotherapy (8 CEUs)
Get our iPhone/Android app!
Get 25% discount on all lectures at The JungPlatform using our discount code: DRDAVE
A psychology podcast by David Van Nuys, Ph.D.
copyright 2012: David Van Nuys, Ph.D.
Podcast: Play in new window | Download