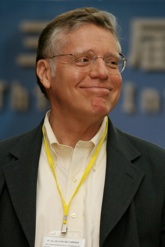 John Beebe, M.D., is author of the 2005 book, Integrity in Depth and co-author, along with Virginia Apperson of the 2009 book, The Presence of The Feminine in Film. You may recall that Dr. Beebe, was my guest on shows #166 on the feminine in film and #140 which dealt with Jungian Typology. Dr. Beebe is a Jungian analyst in practice in San Francisco. He received degrees from Harvard College and the University of Chicago medical school. He is a past President of the C.G. Jung Institute of San Francisco, where he is currently on the teaching faculty, as well as Assistant Clinical Professor of Psychiatry at the University of California Medical School, San Francisco. He is a Distinguished Fellow of the American Psychiatric Association. An avid film buff, Dr. Beebe frequently draws upon American movies to illustrate how the various types of consciousness and unconsciousness interact to produce images of Self and shadow in the stories of our lives that Jung called individuation. Dr. Beebe is particularly well known for his elaboration in C.G. Jung's theory of psychological types.

A popular lecturer in the Jungian world, Dr. Beebe has spoken on topics related to the theory and practical applications of analytical psychology to professional and lay audiences throughout the United States as well as in Canada, China, Denmark, England, France, Italy, Germany, Israel, Mexico, and Switzerland. Dr. Beebe is the Founding Editor of The San Francisco Jung Institute Library Journal, a quarterly of reviews with an international readership, and he was the first American co-editor of the London-based Journal of Analytical Psychology.
Dr. Beebe has contributed many book chapters and published in a wide range of journals. For eample, with Donald Sandner, he is the author of "Psychopathology and Analysis," an article on Jungian complex theory used in many training programs, and with Thomas Kirsch and Joe Cambray the author of "What Freudians Can Learn from Jung." Dr. Beebe is the author of the book Integrity in Depth, a study of the archetype of integrity.
Dr. Beebe's reviews and articles about movies have reached a wide audience. Following up on Jung's theory of psychological types, Beebe developed an archetypal model of a dialogical self wherein conscious functions contend with functions in the shadow. A person's superior (preferred] function is the hero (or heroine), most closely allied with a semi-conscious function called the anima (or animus). An auxiliary function (the good parent) may be counteracted by a shadowy Witch/Senex function, and a child-like tertiary function by a more juvenile Trickster. The Anima may find itself forced to compete with a demonic personality function which threatens to destroy it.
Check out the following Psychology CE Courses based on listening to Shrink Rap Radio interviews:
Jungian Psychotherapy Part 1 (6 CEUs)
Jungian Psychotherapy Part 2 (7 CEUs)
Jungian Psychotherapy Part 3 (7 CEUs)
Jungian Psychotherapy Part 4 (6 CEUs)
Jungian Psychotherapy discounted Package of the Three Above (20 CEUs)
Wisdom of The Dream (4 CEUs)
Positive Psychology (6 CEUs)
A psychology podcast by David Van Nuys, Ph.D.
Podcast: Play in new window | Download