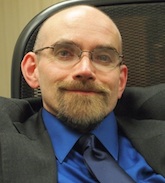 Marshall H. Lewis, M.A. received his terminal master's degree in clinical psychology from Marshall University in West Virginia in 1986 and has practiced psychotherapy since. He earned his Diplomate in Logotherapy from the Viktor Frankl Institute in 2011. He is currently the director of a community mental health center serving three counties in southwest Kansas.
Marshall is writing a dissertation for his Ph.D. in Jewish-Christian Studies at the Chicago Theological Seminary. His dissertation combines logotherapy and hermeneutics to gain new insights into the Biblical Book of Job.
Marshall is entering the second half of life both personally and professionally. This transition has marked a change toward existential and meaning-centered practice and a shift away from the cognitive-behavioral models in which he was trained. Marshall feels as if he has been called to contribute to the ongoing work of Viktor Frankl's logotherapy and existential analysis for the remainder of this career.
Marshall is the host of a podcast devoted to logotherapy and Viktor Frankl found at: www.logotalkradio.com
He offers training and consultation in logotherapy through Defiant Power Solutions, on the web at www.defiantpower.com
Check out the following Psychology CE Courses based on listening to Shrink Rap Radio interviews:
Jungian Psychotherapy Part 1 (6 CEUs)
Jungian Psychotherapy Part 2 (7 CEUs)
Jungian Psychotherapy Part 3 (7 CEUs)
Jungian Psychotherapy discounted Package of the Three Above (20 CEUs)
Wisdom of The Dream (4 CEUs)
Positive Psychology (6 CEUs)
A psychology podcast by David Van Nuys, Ph.D.
Podcast: Play in new window | Download