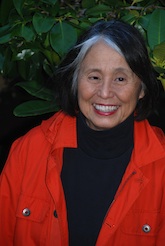 Jean Shinoda Bolen, M. D, is a psychiatrist, Jungian analyst, and an internationally known author and speaker who draws from spiritual, feminist, Jungian, medical and personal wellsprings of experience. She is the author of Like A Tree: How Trees, Women, and Tree People Can Save the Planet (2011), The Tao of Psychology, Goddesses in Everywoman, Gods in Everyman, Ring of Power, Crossing to Avalon, Close to the Bone, The Millionth Circle, Goddesses in Older Women, Crones Don't Whine and Urgent Message from Mother. She is a major advocate for a United Nations 5th World Conference on Women, a Distinguished Life Fellow of the American Psychiatric Association. a past clinical professor of psychiatry at the University of California at San Francisco, and past board member of the Ms. Foundation for Women, and was in two acclaimed documentaries, the Academy-Award winning anti-nuclear proliferation film Women—For America, For the World, and the Canadian Film Board's Goddess Remembered.


Check out the following Psychology CE Courses based on listening to Shrink Rap Radio interviews:
Jungian Psychotherapy Part 1 (6 CEUs)
Jungian Psychotherapy Part 2 (7 CEUs)
Jungian Psychotherapy Part 3 (7 CEUs)
Jungian Psychotherapy discounted Package of the Three Above (20 CEUs)
Wisdom of The Dream (4 CEUs)
Positive Psychology (6 CEUs)
Discover these discount codes for you!: Angie's List and 10% off on printer ink at 4inkjets and 10% off on Shoes and other apparel at ShoeBuy.com.
A psychology podcast by David Van Nuys, Ph.D.
Podcast: Play in new window | Download