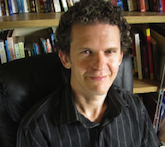 Dr Russ Harris, MD is a physician, psychotherapist and executive coach. As a GP he became increasingly interested in the psychological aspects of health and wellbeing (and increasingly disenchanted with writing prescriptions). Ultimately this interest led to a total career change, and he now works in two different, yet complementary roles: as a therapist and as a life coach. He is also the author of the 2007 self-help book, The Happiness Trap, a best-seller, now published in over twenty-two countries and seventeen different languages.

Over the years, he has trained in many types of therapy and coaching, but when he discovered Acceptance & Commitment Therapy, (ACT), a unique and creative mindfulness-based behavioural therapy, he was so deeply impressed that he immediately went to the U.S.A. to train with its creators, Steve Hayes, Kelly Wilson, and Kirk Strosahl. Since then, he has been back many times, and is now an internationally-renowned ACT trainer.
Russ has a unique model for training, which he calls 'ACT Made Simple', because it covers so much material in a short space of time. (In fact, he even has even written an introductory textbook on ACT, titled 'ACT Made Simple'. To download the first two chapters, click here.) He proudly proclaims each workshop a 'jargon-free zone' – and bases his training on three core values: simplicity, clarity, and having fun.
Since 2005, Russ has travelled all around Australia, and internationally, providing workshops and training for a wide variety of health professionals, from coaches and counsellors, to psychologists and psychiatrists. His highly-acclaimed ACT workshops are typically brief, powerful, cost-effective and life-enhancing. Participants regularly report not only major improvements in their therapy and/or coaching, but also in their personal lives – and evaluation forms frequently praise his ability to make complex ideas seem very simple.
Discover these discount codes for you!: Angie's List and 10% off on printer ink at 4inkjets and 10% off on Shoes and other apparel at ShoeBuy.com.
A psychology podcast by David Van Nuys, Ph.D.
Podcast: Play in new window | Download