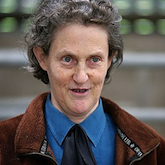 Temple Grandin, Ph.D. is a Doctor of Animal Science and professor at Colorado State University, bestselling author, and consultant to the livestock industry in animal behavior. As a person with high-functioning autism, Grandin is also widely noted for her work in autism advocacy and is the inventor of the hug machine designed to calm hypersensitive persons. Grandin was born in Boston, Massachusetts in 1947. She was diagnosed as autistic in 1950. Having been labeled and diagnosed with brain damage at age two, she was placed in a structured nursery school with what she considers to have been good teachers. Grandin's mother spoke to a doctor who suggested speech therapy, and she hired a nanny who spent hours playing turn-based games with Grandin and her sister. At age four, Grandin began talking, and she began making progress. She considers herself lucky to have had supportive mentors from primary school onwards. However, Grandin has said that middle school and high school were the worst parts of her life. She was the `nerdy kid,` the one whom everyone teased and picked on. She would be walking down the street and people would say `tape recorder,` because she would repeat things over and over again. Grandin states that `I could laugh about it now, but back then it really hurt.
She is the focus of a semi-biographical 2010 HBO film, titled Temple Grandin starring Claire Danes as Grandin. At the 62nd Primetime Emmy Awards, the film, nominated in 15 Emmy categories, received five awards, including Outstanding Made for Television Movie and Best Actress in a Drama for Danes.

According to Wikipedia, Grandin is considered a philosophical leader of both the animal welfare and autism advocacy movements. Both movements commonly cite her work regarding animal welfare, neurology, and philosophy.
Dr. Grandin has scores of professional publications to her credit. In addition, she has published a number of books, including: The Way I See It: A Personal Look at Autism and Asperger's, Thinking in Pictures:My Life with Autism, and Animals Make Us Human: Creating the Best Life for Animals.
Discover these discount codes for you!: Angie's List and 10% off on printer ink at 4inkjets and 10% off on Shoes and other apparel at ShoeBuy.com.
A psychology podcast by David Van Nuys, Ph.D.
Podcast: Play in new window | Download