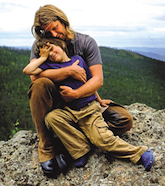 Rupert Isaacson was born in London in 1967 to South African parents. He also grew up training horses on his aunt's farm. A journalist since 1990, he has written for most of the British and many American newspapers and magazines. He has been a human rights activist since 1996, working for the bushmen of southern Africa's Kalahari desert in their attempts not to be moved from their ancestral lands. His organization, The Inidgenous Land Rights Fund, won the two largest land claims in African history in 2006 and 2011. As a result he is banned from Botswana.
In 2004, His son, Rowan, was diagnosed with autism and also began speaking while riding on horseback with Rupert. In 2007, Isaacson and son Rowan rode across Mongolia. The journey was documented in the book and film, The Horse Boy. Rowan came back with a vey different son.

Since 2007 Isaacson has run the Horse Boy Foundation, which helps autism families come together with horses (www.horseboyfoundation.org) and teaches people how to work with autism spectrum children and horses (horseboymethod.com).
Isaacson regards autism as a skill set rather than a disorder, and is amazed at the sheer adventure of it all.
Discover these discount codes for you!: Angie's List and 10% off on printer ink at 4inkjets and 10% off on Shoes and other apparel at ShoeBuy.com.
A psychology podcast by David Van Nuys, Ph.D.
Podcast: Play in new window | Download