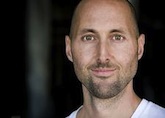 Brian Johnson is the Philosopher & CEO of en*theos Enterprises where he has fun integrating his passion for practical philosophy with his passion for creating cool businesses that inspire and empower people to live their most authentically awesome lives.
A few years ago Brian decided to sell the business he was running and give himself a Ph.D. in Optimal Living. He couldn't find a program that integrated everything he wanted to study—from old school philosophy, positive psychology and spirituality to nutrition, health & fitness, creativity, business and modern self-development. So, he decided to create his own doctoral program.
He created PhilosophersNotes where he shares "More Wisdom in Less Time" by distilling the Big Ideas from his favorite optimal living classics into fun, inspiring and super practical 6-page PDFs, 20-minute MP3s and 10-minute PNTV episodes. His dissertation came in the form of a little book called A Philosopher's Notes where he distilled his favorite 100 Big Ideas on optimal living.
In his past lives, Brian built and sold the social networking sites eteamz and Zaadz. He's a proud law school dropout and a Phi Beta Kappa graduate of UCLA where he studied Psychology and Business. He enjoys spooning with his Goddess when he's not reading, hiking, creating or otherwise enjoying himself.
Discover these discount codes for you!: Angie's List and 10% off on printer ink at 4inkjets and 10% off on Shoes and other apparel at ShoeBuy.com.
A psychology podcast by David Van Nuys, Ph.D.
Podcast: Play in new window | Download