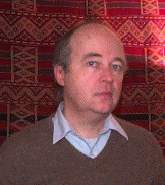 Douglas A. Davis, Ph.D. is a chreished friend from grad school days at the University of Michigan. He recently retired from full-time teaching at Haverford College in Bryn Mawr, Pennsylvania where he was professor of psychology and for many years department chair. A frequent, Shrink Rap Radio guest, Doug has spent many years studying and writing about Morocco and speaks fluent Arabic, as well. Given what's going on in that part of the world at this very moment, and Doug's expertise, I thought another interview with him would be especially timely.
Here is the link to Doug's Blog which he references in the interview.

Discover these discount codes for you!: Angie's List and 10% off on printer ink at 4inkjets and 10% off on Shoes and other apparel at ShoeBuy.com.
A psychology podcast by David Van Nuys, Ph.D.
Podcast: Play in new window | Download