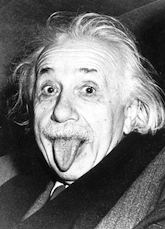 Jerry Tumbule, M.S, ABD and I have another one of our wide ranging conversations. As usual, it is both personal and psychological. Among the topics we discuss in this first episode of a three-part series is an article that appeared in the December 13, 2010 issue of The New Yorker, titled "Is There Something Wrong with The Scientific Method" by Jonah Lehrner. Jerry and I discuss this troubling article which suggest much of science may rest on a shaky foundation.

This is Jerry's 14th appearance on Shrink Rap Radio. The other 13 episodes were titled The Dave and Jerry Show. Jerry and I have led remarkably parallel lives. We met during our freshman year at the University of Pennsylvania and hit it off immediately. We were both there on scholarship. We both won scholarships through the U.S. Navy (but I didn't accept mine). We both began in electrical engineering. Independently, we both switched out of engineering into creative writing. Circumstances forced Jerry to leave Penn after his freshman year but we stayed in contact. Independently, we both ended up getting M.A. degrees in psychology and later getting into doctoral psychology programs– me at the University of Michigan and him back at the University of Pennsylvania. We did diverge inasmuch as I studied clinical psychology and he was into physiological psychology. There have been other parallels since those days but I won't burden you with them. This background may help you to understand the comfort with one another that you will hear in our conversations.
Discover these discount codes for you!: Angie's List and 10% off on printer ink at 4inkjets and 10% off on Shoes and other apparel at ShoeBuy.com.
A psychology podcast by David Van Nuys, Ph.D.
Podcast: Play in new window | Download