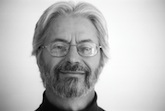 Barry Spector is a Harvard grauduate who writes about American history and politics from the perspectives of myth, indigenous traditions and archetypal psychology. He has published three articles in Jung Journal: Culture and Psyche and is the author of the 2010 book, Madness At The Gates Of The City: The Myth Of American Innocence. (www.madnessatthegates.com)

Barry's essays can be found on his website, www.barryandmayaspector.com.
Barry and his wife Maya have performed in The Great Night of Rumi, Rumi's Caravan and The Great Night of Soul Poetry, regular celebrations of recited poetry and music, for many years. To hear them and others reciting poetry, see http://dzola.com/berkeley_poetry_hear.asp. These events, held in the San Francisco Bay Area, attract audiences in the hundreds. Although not a poet himself, he feels that the revival of spoken poetry and storytelling is a key to cultural renewal. He and Maya also present Oral Traditions Poetry Salons at their home (the only rule is no reading!) and conduct an annual Day of the Dead grief ritual in early November. Bay Area residents are encouraged to email him to get on his mailing list for these events. Barry runs a furniture moving company, but he would rather move your soul.
Discover these discount codes for you!: Angie's List and 10% off on printer ink at 4inkjets and 10% off on Shoes and other apparel at ShoeBuy.com.
A psychology podcast by David Van Nuys, Ph.D.
Podcast: Play in new window | Download