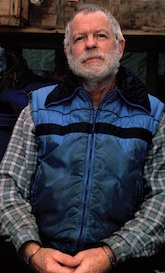 Robert Kull, Ph.D. teaches through an online university and is author of the 2009 book, Solitutde: Seeking Wisdom in Extremes.
Years after a motorcycle accident left him with one leg, Bob Kull traveled to a remote island in the Patagonia wilderness with supplies to live completely alone for a year. He sought to explore the effects of deep solitude on the body and mind and to find answers to the spiritual questions that had plagued him his entire life. With only a cat and his thoughts as companions, he wrestled with inner storms while the wild forces of nature raged around him. The physical challenges were immense, but the struggles of mind and spirit pushed him to the limits of human endurance.
Dr. Kull has spent years wandering North and South America, working as a scuba instructor, wilderness guide, construction worker, dishwasher, truck driver, bartender, painter, firefighter, and professor. He began undergraduate studies at age forty and now holds a Ph.D. from the University of British Columbia.
He lives in Vancouver. You can visit him online at http://www.bobkull.org.
Discover these discount codes for you!: GoDaddy, PetMeds, Budget.com car rentals, Avis coupons and Angie's List
A psychology podcast by David Van Nuys, Ph.D.
Podcast: Play in new window | Download