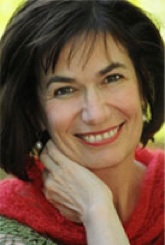 Leslie Davenport, M.A., MFT is a pioneer in the role of guided imagery in psychotherapy and integrative medicine, and is a licensed Marriage and Family Therapist with Master's Degrees in both the arts and psychology. Leslie is also an ordained minister in an interfaith Sufi tradition. Her unique background and creative work has been influential in a health-care revolution that recognizes the role of meaning and the spiritual dimensions of life as an integral part of health and healing.

In the late 1980's Leslie was a founder of the Humanities Program at Marin General Hospital, which evolved into the Institute for Health and Healing in collaboration with California Pacific Medical Center in San Francisco. Her years of clinical experience culminated in the publication of Healing and Transformation through Self-Guided Imagery, through Celestial Arts/Ten Speed Press/Random House. She has also served as Editorial Consultant to Aspen Publishers for their book, Holistic Health Promotion and Complementary Therapies: A Resource for Integrative Practice.
Here are my discount codes for you!: GoDaddy, PetMeds, Budget.com car rentals, Avis coupons and Angie's List.
A psychology podcast by David Van Nuys, Ph.D.
Podcast: Play in new window | Download