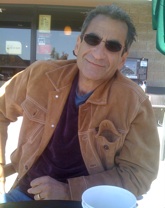 Tony Wolff and I worked together in his consulting company for 18 years or so, when he decided to close up shop and go on a quest to build a more meaningful life.
Tony has practiced yoga and Vipassana meditation for over 20 years. He began practicing Transcendental meditation in 1967 and has taught yoga for over 10 years.
As founder and President of an international strategy development & consulting firm, Tony Wolff developed some of the earliest tools for understanding audience behavior. Transitioning from the world of consumer products to the emerging technologies of the early 1980's, Tony Wolff & Co. helped clients understand the impact of rapid technological change on consumer behavior, by focusing on the inner subjective experience of audience members.

Scaling back his professional life in the early 90's Tony traveled to Russia extensively, working on citizen diplomacy issues. He has brought the works of noted Russian artists to American audiences. He founded a non-profit foundation dedicated to cross-cultural arts education and helped establish one of the first independent art schools in post-Soviet Russia.
Tony has written short fiction and non-fiction essays, and has published poetry and travel writing.
Tony is cofounder of Magic House Pictures whose charter is to assist independent low budget filmmakers in developing direct-to-viewer distribution channels. Magic House Pictures' first film, "Codes of Silence" is currently in development. Tony serves as Executive Producer.
Here are my discount codes for you!: GoDaddy.com, and Budget.com offer
A psychology podcast by David Van Nuys, Ph.D.
Podcast: Play in new window | Download