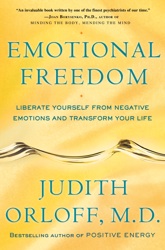 Judith Orloff, MD is an assistant clinical professor of Psychiatry at UCLA and author of the 2009 book, Emotional Freedom: Liberate Yourself from Negative Emotions and Transform Your Life. SPECIAL OFFER: Get 100 free gifts with purchase of book at http://www.drjudithorloff.com/emotional-freedom-promotion/. She has spoken at medical schools, hospitals, universities, the APA, Fortune Magazine's Most Powerful Women Summit, and alternative and traditional health forums. She graduated USC School of Medicine, completed a four year psychiatric residency program at UCLA, and currently mentors UCLA medical students and psychiatry-residents-in-training. Her bestselling books include Positive Energy, Guide to Intuitive Healing, and Second Sight. Positive Energy is a national and Los Angeles Times bestseller which has been translated into 24 languages.
Here are discount codes for you!: If you need a rental car use our exclusive Budget rental codes, to purchase domains we have GoDaddy domain coupons, and if you have a petPetMeds coupons.
A psychology podcast by David Van Nuys, Ph.D.
Podcast: Play in new window | Download