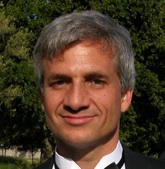 Philippe Goldin, Ph.D. is a research scientist and heads the Clinically Applied Affective Neuroscience group in the Department of Psychology at Stanford University.
He spent 6 years in India and Nepal studying various languages,
Buddhist philosophy and debate at Namgyal Monastery and the Dialectic Monastic Institute, and serving as an interpreter for various Tibetan Buddhist lamas. He then returned to the U.S. to complete a Ph.D. in Clinical Psychology at Rutgers University. His NIH-funded clinical research focuses on (a) functional neuroimaging investigations of cognitive-affective mechanisms in adults with anxiety disorders, (b) comparing the effects of mindfulness meditation and cognitive-behavioral therapy on brain-behavior correlates of emotional reactivity and regulation, and (c) training children in family and elementary school settings in mindfulness skills to reduce anxiety and enhance compassion, self-esteem and quality of family interactions.

Dr. Goldin will be one of the featured speakers at the upcoming conference on Happiness and Its Causes in San Francisco, Nov. 24 through 25, 2008.
Discover these discount codes for you!: Angie's List and 10% off on printer ink at 4inkjets and 10% off on Shoes and other apparel at ShoeBuy.com.
A psychology podcast by David Van Nuys, Ph.D.
Podcast: Play in new window | Download