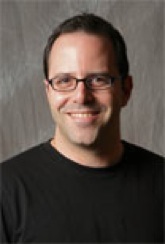 Nova Spivack is one of the leading voices of the emerging Semantic Web, what is sometimes referred to as Web 3.0. Nova founded Radar Networks to develop the next-evolution of social software, Twine, based on the Semantic Web. Twine is a unique, Semantic Web application that that helps users organize, share and discover information around their interests, with networks of like-minded people.

In 1994, Nova co-founded EarthWeb (IPO 1998). Nova has worked at Individual, Xerox/Kurzweil, Thinking Machines, and also with SRI International on the DARPA CALO program and nVention. Nova founded Lucid Ventures and co-founded the San Francisco Web Innovators Network
As a grandson of management guru Peter F. Drucker, Nova shares his grandfather's interests in the evolution of knowledge work. He has a BA in Philosophy from Oberlin College and did graduate study at the International Space University. In 1999 Nova flew to the edge of space in Russia with Space Adventures.
Nova blogs at Minding the Planet.
Nova gives the following on his background in Buddhism: "I met my first lama as a child — Lama Gompa, the first Nyingma lama to teach in the US. I began reading and studying sutra in my early teens. In college I focused on cognitive science and AI, and that led me to intensive study of the Buddhist theory of mind. I then met Namkhai Norbu. After college in 1992 I went to Japan, Thailand, and India for a year. I lived and practiced in Dharmasala, Bodhgaya, Varanasi, Kathmandu and other places in monasteries and retreat centers. I studied with many great lamas in all four schools, plus Bonpo as well. In the late 1990's participated in five years of intensive one-month summer retreats with Penor Rinpoche focused on Dzogchen. I also did numerous summer retreats with Lopon Tenzin Namdak of the Bonpo tradition. After that I met another (secret) lama from Tibet who is now my main lama. He is the greatest Dzogchen master I have met, but for varous reasons I do not discuss him. I have been working since the late 1990's on a number of relief efforts in Bhutan, Nepal, India and Tibet. I have helped to build monasteries, retreat centers, nunneries, old-age homes, health clinics, libraries, and more. I continue to do serious retreats every year."
A psychology podcast by David Van Nuys, Ph.D.
Podcast: Play in new window | Download