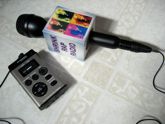 This is presentation I gave at Sonoma State University. As in several previous semesters, Dr. Shepherd Bliss invited me to be a guest speaker in his psychology class, The Person in Society. I tried to make the session interactive, though I ended up talking more than I intended. You will hear comments and reactions from a number of students in the class as well as some very spirited rejoinders from Shepherd.
My comments on technology will be familiar from conversations you've heard here between me and my friend Jerry Trumbule. In particular, I refer to the Atlantic Magazine article "Is Google Making Us Stupid?", to the Business Week article "Marketing to Millennials," to the Esquire article "The Unspeakable Odyssey of The Motionless Boy," and a Santa Rosa Press Democrat article "Baby Online."

Some great Mevio discount codes for you!: Budget rental car, GoDaddy.com, and if you have a petPetMeds offer.
A psychology podcast by David Van Nuys, Ph.D.
Podcast: Play in new window | Download