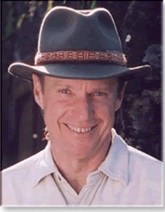 Allan Hardman describes himself as a relationship coach, author, teacher, and Toltec Master, trained by Miguel Ruiz in the tradition of The Four Agreements. He teaches in Sonoma County, CA, and guides "Journeys of the Spirit" to sacred sites and tropical beaches in Mexico and beyond. He is the author of The Everything Toltec Wisdom Book, and contributor to two books with Deepak Chopra, Dr. Andrew Weil, Caroline Myss, and others.

During the winter Allan lives in the tropical beach village of Chacala, Nayarít, Mexico, and invites you to join him there for a wellness vacation, a personal intensive, relationship counseling, or his annual Valentine's Week Workshop on Love, Romance, and Relationship (February 9 ~ 13, 2009). Allan is known as the "High-Tech Toltec" for his dynamic online teaching and spiritual networking community called "TACO." Accessible through www.joydancer.com.
For information about Allan's work with The New Relationship, spiritual coaching, journeys, teleclasses, and to subscribe to his free e-newsletter, "The Weekly Word and News," visit: www.joydancer.com. Or call (707) 528-1271. E-mail: allan@joydancer.com
Check out these Mevio discounts: Budget rental car, GoDaddy.com, and if you have a petPetMeds offer.
A psychology podcast by David Van Nuys, Ph.D.
Podcast: Play in new window | Download