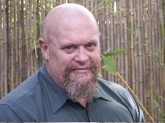 Randy Clere, Lic Ac, CH. MNLP is a licensed acupuncturist and hypnotherapist in private practice in Seattle, Washington. He has three decades of clinical practice in the arts of acupuncture, Oriental Medicine and hypnotherapy, specializing in Japanese-style acupuncture and Zen Shiatsu. He also uses NeuroLinguistic Programming (NLP), Neuro-Semantics, Ericksonian Hypnotherapy and Self Relations therapy when working with his clients. Randy has also been involved with hospice in-patient home care since 1983. Since early in his life, Randy has practiced martial arts and meditation. He has actively been involved in personal development since the early 1970's. Randy specializes in giving his patients personal care, empowering them to heal and introducing them to that tender place within themselves of unconditional positive regard.

Randy is also a semi-professional musician playing electric bass and Chapman Stick. He has played with Taj Mahal, Sam Weis, and Scott Cossu and many others. Beyond this, he's an amateur chef who loves all things curry and barbecues up a feast on the weekends.
Randy is happily married to Debra and they share five lovely daughters.
We close the show with a new single by Geoff Smith. You can subscribe his new new CD by clicking here.
A psychology podcast by David Van Nuys, Ph.D.
Podcast: Play in new window | Download