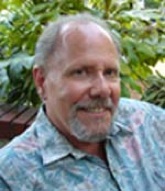 Steve Ryals is author of the new book Drunk with Wonder: Awakening to the God Within. Through learning to be present to his own deep feelings, Ryals was able to let go of years of addictive behavior, including freeing himself of decades of alcohol abuse seven years ago. He attributes his current health and happiness to his direct experience that "healing takes feeling" and says healthy sharing of feelings is key to a wonder-filled life. Drunk with Wonder: Awakening to the God Within is the culmination of years of research and decades of personal experience. It's been hailed as where "Conversations with God meets What the Bleep Do we Know?"

Steve Ryals, lives off the electrical grid in Northern California, has a publishing company, was a music reviewer for years, has made and lost a million dollars, and has been studying mind/body health his entire adult life. He is very knowledgeable about the interface between science and philosophy/religion and has written a book, which is a compendium of the literature to date (with exhaustive bibliography), combined with his own story of going from homeless and Methedrine-addicted to graduating from U.C. Berkeley on the dean's list.
The show raps up with a podsafe music selection by Geoff Smith, titled Ones and Os.
A psychology podcast by David Van Nuys, Ph.D.
Podcast: Play in new window | Download