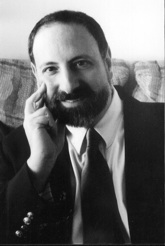 Dennis Palumbo, M.A., MFT is a writer and licensed psychotherapist in private practice, specializing in creative issues. He's the author of Writing From the Inside Out, as well as a new collection of mystery short stories, From Crime to Crime.
Formerly a Hollywood screenwriter, his credits include the feature film My Favorite Year, for which he was nominated for a WGA Award for Best Screenplay. He was also a staff writer for the ABC-TV series Welcome Back, Kotter, and has written numerous series episodes and pilots.

He's the author of a novel, City Wars, and his short fiction has appeared in Ellery Queen's Mystery Magazine, The Strand and elsewhere. He provides feature articles and reviews for the New York Times, the Los Angeles Times, EMMY Magazine, and many others. His column, "The Writer's Life," appeared monthly for six years in Written By, the magazine of the Writers Guild of America. Currently, he's a contributing writer to The Lancet, Britain's leading medical journal, and does commentary for NPR's "All Things Considered."
Dennis conducts workshops throughout the country. Recent appearances include the Family Therapy Network Annual Symposium, the Association for Humanistic Psychology, Cal State Northridge, the American Society of Journalists and Authors, PEN West, the Writers Guild Foundation, the Los Angeles Psychoanalytic Society and Institute, the California Association of Marriage and Family Therapists, Screenwriting Expo, USC, the Directors Guild, and UCLA.
A graduate of the University of Pittsburgh and Pepperdine University, he serves on the faculty of UCLA Extension, where he was named Outstanding Teacher of the Year.
A psychology podcast by David Van Nuys, Ph.D.
Podcast: Play in new window | Download