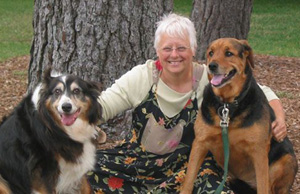 Geri Olson, Ph.D. is associate professor in the Psychology Department at Sonoma State University, where she will soon assume the role of Department Chair. Geri teaches and leads workshops in the area of creativity and expressive arts. Geri points out that Dolls have been a part of human existence for 25,000 years.

From fertility rituals to child's play, dolls have a central role in portraying the story and values of a culture. The power of the doll is expanded as we move back in time and explore dolls with a cross-cultural perspective. In that search, the importance of dolls in healing, rites of passage, and empowerment become evident. This understanding of the historical and psychological role of dolls has created a revisioning of the influence of the doll. Dolls are used often in sand tray work, hospital programs, and in educational programs for abusive parents, but very little is written about the deeply evocative experience of making a doll. What power does the doll that we create have in revealing the images and narrative of a person's inner life? How could the doll capture and reflect a glimpse of the psyche? In Geri's work with students and therapists, dolls are created as mirrors of the self, as figures in a personal myth, and as allies, elders, healers and guides on the path to authenticity and health. The doll narrates a deeply personal story from an adventure to the interior. Geri has integrated the doll process into her work for 25 years and is the coordinator of a Doll Project that has included over 600 K-12 students.
Discover these discount codes for you!: Angie's List and 10% off on printer ink at 4inkjets and 10% off on Shoes and other apparel at ShoeBuy.com.
A psychology podcast by David Van Nuys, Ph.D.
Podcast: Play in new window | Download