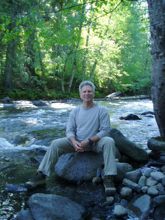 Steven Shaps, M.A., MFT, is a Marriage and Family Therapist who practices body-mind psychotherapy in Portland, Oregon. He specializes in the practice of Somatic Psychotherapy and Anger & Stress Management. He works with individuals, couples, families, and groups in his private practice and leads workshops and seminars in Anger & Stress Management, in addition to mindfulness meditation & somatic sensing. He also leads workshops and provides coaching in executive and staff management. He is a Marriage and Family Therapist, and according to his website he has certifications in Anger Management, Eye Movement Desensitization, and Reprocessing (also known as EMDR), clinical Hypnotherapy, Marital & Couples Therapy, and Codependency. He has extensive training in Ericksonian-Mind/body healing therapies, meditation, Somatics, Cognitive Behavioral Therapy, Movement, Breath, Buddhist meditation and Yoga. Of late, he has added to his roster of activities workshops and classes on death and dying. Beyond all this, he has also been a student of Native American healing traditions.
Discover these discount codes for you!: GoDaddy, PetMeds, Budget.com car rentals, Avis coupons and Angie's List.
A psychology podcast by David Van Nuys, Ph.D.
Podcast: Play in new window | Download